One thing that Ireland inc. does have is an excellent calibre of candidate. There are 8 universities and 14 technical colleges along with a range of higher education colleges, you can find them listed here.
With such a strong assortment of excellent third level institutions, over 228,000 students enrolled in one of these colleges in 2019 which has been growing year on year since 2015, according to Higher Education Authority. This gives Ireland a huge advantage in attracting foreign direct investment as we continue to create an educated and talented workforce.
As these students become graduates and march on with their career they play a part in today's war on talent. There is no shortage of top companies to work for, so nurturing that talent is a critical part of a recruiters job today. Building networks and keeping in touch with that network separates the average with the top class recruitment functions.
How does talent mapping work and how is it beneficial to recruitment processes?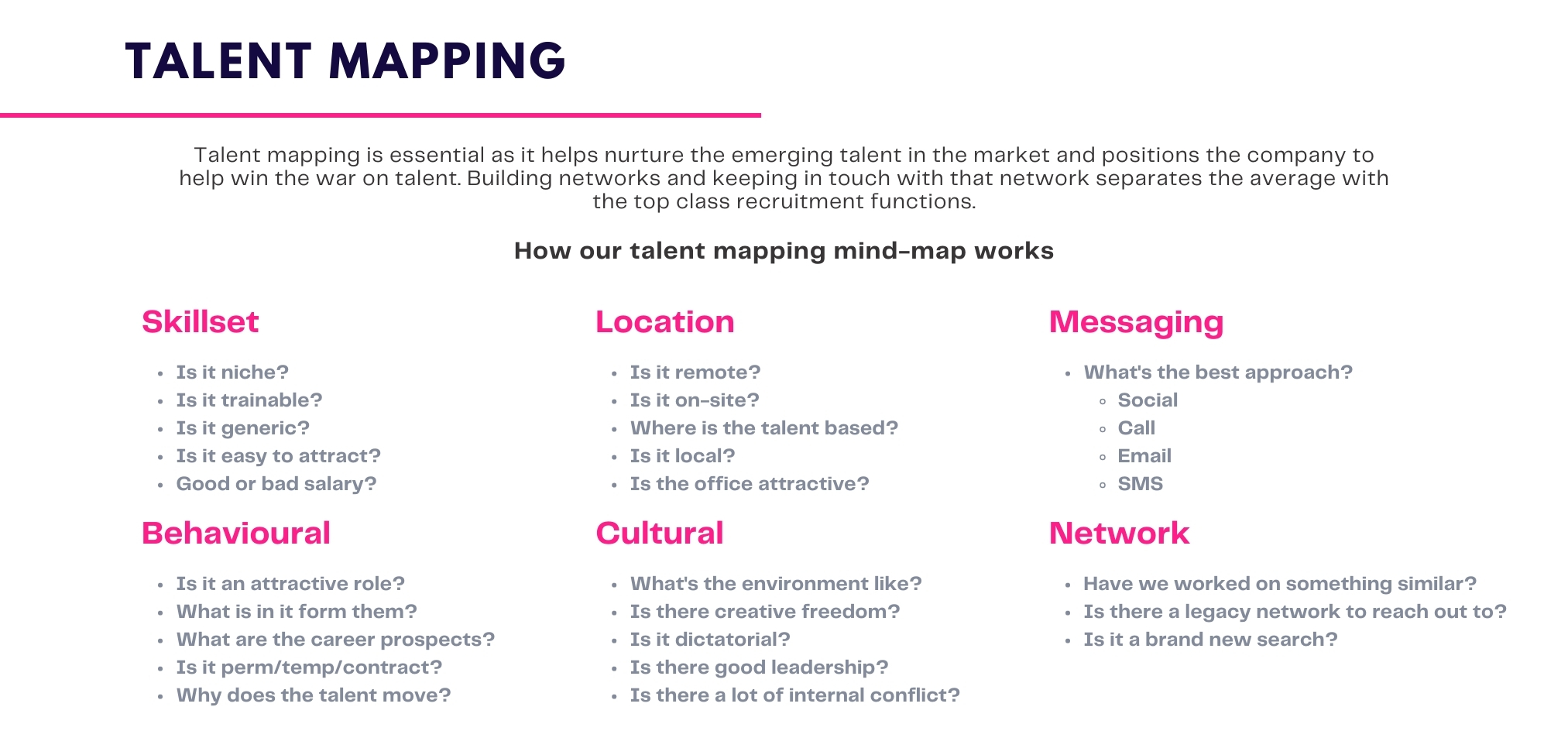 Let us explain the process a little further:
Assessing Current Market
When you decide you would like to set up an operation in Ireland, the availability of staff will be something to consider to get the operation up and running.
Talent mapping uses a specific formula to evaluate the readiness and performance of your required workforce. The goal is to identify high-potential employees whose current abilities align with your strategic priorities for the operation to hope to have in Ireland.
For example, if one of your biggest needs is developing a high tech R&D hub for a software product, you might ask yourself who has the fundamental skills we need? Is the software language you use widely used, such as Java or is it niche such as Clojure. What would be the estimated lead time in attracting the person?
With tools such as Linkedin or Seekout we are spoilt for ways to extract this data. These tools will allow you to map the market specifically, we need to map areas such as; How many people use the same tech stack you need?
Are there active candidates in Ireland and the great EU area? How often do they change jobs? Is your tech stack new and exciting?
As we dig deeper into the market more you can understand why top talent leaves, what challenges are people looking for and plan accordingly. At GemPool we take a huge amount of care when we advise our customers on the topic of availability of staff and timelines.
Developing a plan to fill the gaps
Once you've completed your staffing objectives and taken stock of your growing team, it's important to develop a plan for future recruitment.
One important outcome of talent planning can be the creation of ideal team member descriptions to guide future hiring processes. Another can be the development of training paths and leadership development programs to help progress your current staff into the employees you'll need tomorrow.
Talent mapping may include using research to identify key candidates from your competitors who could fill important positions for you. The goal is to ensure that you have a plan in place to recruit the staff needed to achieve your business objectives rather than to recruit what might be perceived to be the best employees who work for your direct competitors.
What skills does your company need now and what will it look like in the future?
The value of talent mapping is directly linked to its ability to help you project future talent needs. For example, a Data Centre will need to build its capacity in order to assist with the ever growing data demands from their customers.
As a result network technology will change, more network fibres, better hard drives, more efficient switches, routers etc.
Questions you need to answer for accurate talent mapping
Where is the technology and your company headed in the next five, ten, or twenty years? What skills will be needed—by level, department, and job function—to thrive in that ever expanding changing business environment?
Start the talent mapping process by determining your growth path and then working backward to the skills, expertise, and education your team needs to make that happen.
Overall, talent mapping allows businesses to create a roadmap for the current requirements and succession planning, future recruiting, and employee development initiatives.
By understanding what talent is needed to achieve your current and future growth plans when considering opening a new location? It's possible to invest in the right activities today to make that vision a reality tomorrow.
GemPool has had huge success in the past and present in scaling companies using Talent Mapping & Sourcing Recruiting strategies. Our talented consultants work tirelessly to maintain and build a network and nurture passive candidates who are ready to move for the right type of opportunity.
Other recruitment services: