---
IT Recruitment Solution
Welcome to our Talent Partner Solution! If you are reading this page, it may be that you are facing challenges with your current recruitment solution. If any of the pain points below are relevant to you, then our Talent Partner Solution is right for you.
Scaling challenges: Struggling to get the right talent, when you need it? Finding it hard to scale up your teams at the pace you want to? What approach are you using to meet your hiring needs? Will that help you build the team you envision?

Issues surrounding retention levels: Are you paying your employees well enough? What is happening in the market to impact your people? Need help mapping out stronger retention strategies?

Stress surrounding delivery of roadmap: Do you have all the skills and resources to help achieve your strategic objectives?

Questions surrounding hiring the right cultural fit for your company: How do you hire the right people into your business, consistently, over time? Is your culture promoting learning and development of your employees well enough? Are you building a safe environment for them?
So let us tell you how we can help you
We have heard the questions and pain points mentioned above, time and again within the tech market. These are real obstacles leadership teams in companies face, and if you're reading this, the chances are you have faced them too.
Our clients value our Talent Partner Solution for a number of reasons. By way of example, we recently helped a client reach their hiring goals through our talent partner solution. We were tasked with building out their software engineering team. You can find the complete case study below:
As we know, time is of the essence, so let's get straight to the benefits of using our Talent Partner Solution:
Commitment and dedication: You will have a dedicated lead recruiter and their team working on your hiring needs. Allocating more of our time to your needs will mean we can deliver a more robust shortlisting process, ultimately engaging with a larger, more qualified pool of candidates.

We can spend more time screening candidates. We will conduct face-to-face meetings with the candidates to ensure they are vetted thoroughly and we find a skills and culture match for your organisation. This will mean that you get better qualified and relevant candidates to interview and hire.

Candidate management: Our Consultants will act as an extension of your brand in the market. We will provide an excellent candidate experience and ensure that, regardless of the outcome, each and every candidate has a positive experience. This will help to improve your brand in the tech talent market.

Accountability: We will agree weekly deliverables for the recruitment project and report back on these to show all the activity and results being achieved.

Market insights: We will keep you informed of the trends in the market and provide tailored insights that apply to your domain, company size and technology stacks. This will include talent mapping and salary insights.
What would this recruitment process look like?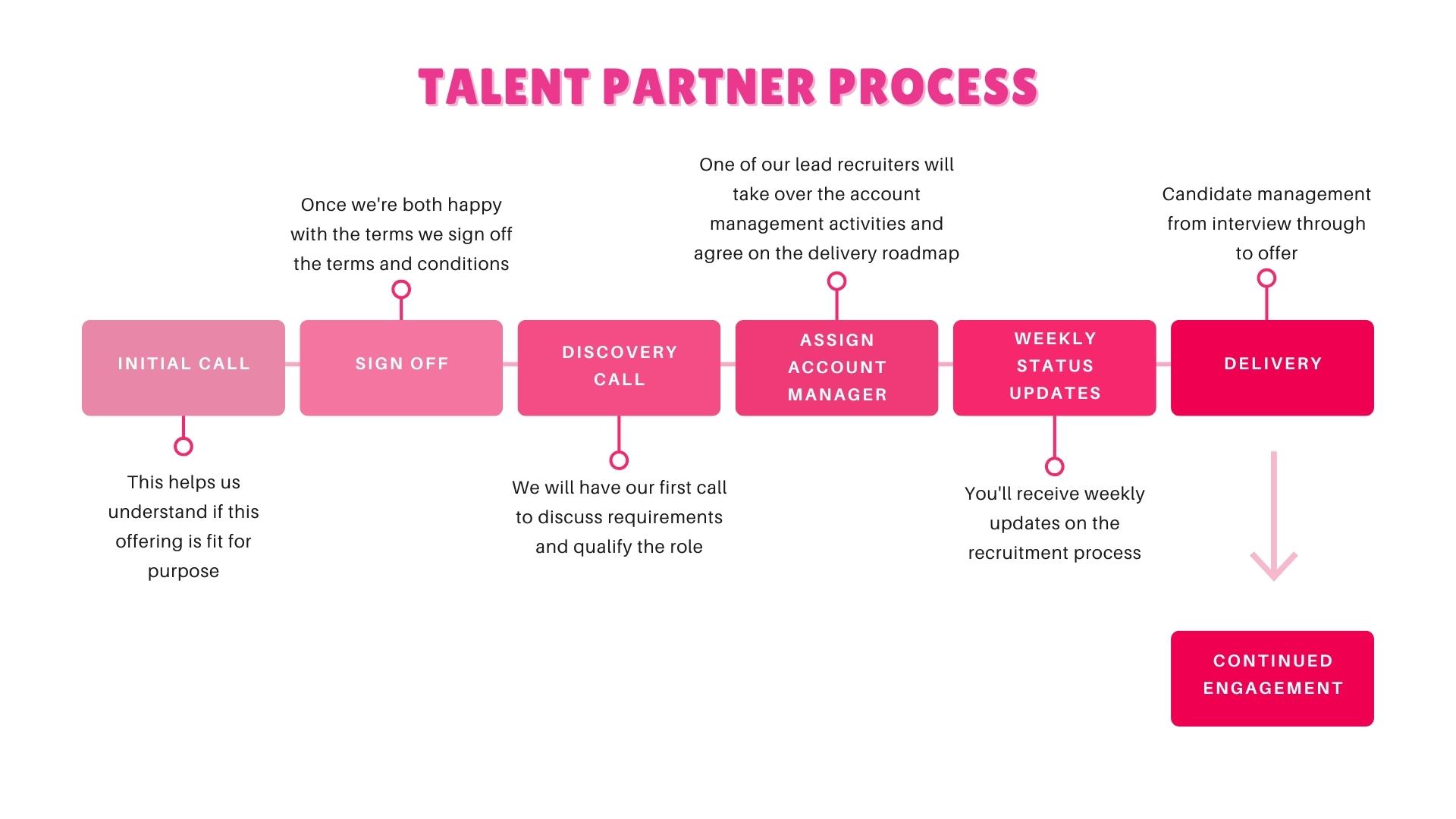 How does our Talent Partner Solution differ from regular recruitment services?
This boils down to the ability to deliver more value to you. By having your commitment up front (we ask for 10% of the fees at the outset), we can properly commit to your roles and we guarantee the fill.
Under our Talent Partner Solution, our consultants dedicate their time to your roles. You never get this commitment in a regular (contingent) recruitment process. We will deliver a more robust candidate engagement process to build a much higher quality shortlist to present to you. Our consistent reporting will make the process more transparent and predictable.
The market insights we share with you will help drive your market knowledge, the retention of your teams and help attract the best possible talent to your company.
What will we need from you to deliver the best results:
Detailed role qualification: once this is established from the get-go we will have all the information we need in terms of the talent expectation (years of experience, skills and tech-stack and culture fit).

Consistent communication channel: having a proper feedback loop will help us learn more about your expectations and at the same time provide a great experience for any candidate who interacts with you.
Last point to note: During our qualification call if we learn that the role has been open for months and your internal team has been speaking to candidates with no luck, our talent on demand recruitment solution is probably more suitable.

Get in touch with us
Why don't we hop on a call to get a better idea regarding what you're looking for? We aim to tailor the solution to your needs and provide you with initial insights that might help mapping out your recruitment process.
Click on the button below to contact us and we'll be in touch soon!
If this IT recruitment plan is not what you need right now, please see our other tech hiring options