Why is IT Contracting gaining in popularity?
The reason behind the growth and demand for IT contractors can be summarised into 4 main points:
Technical skill-set of tech contractors

Short-term commitment

Seasonal flexibility

Cost effective
IT contractors usually possess a niche set of skills, which makes them experts in the area. This is reflected in their quality of work and the kind of projects they've worked on previously. There is no commitment involved as they're hired to complete a particular job or work on a specific project and with its completion, so is their contract with the company.
Even though you pay a higher daily-rate to contractors, the company is not liable to provide any benefits or set up training programs for these contractors. It is also cost effective in the sense that there is no long-term payroll commitment. They're hired to take care of seasonal or project based workload requirements, during which time the company can scale up to meet the demand.
Why use GemPool as your recruitment ally?
We're a specialist IT recruitment agency who have been in the business since 2006. We've worked across various industries like telco, government, software product, e-commerce, fintech, medtech, pharma, software services, travel and retail, to name but a few.
Our large IT talent network helps us stay ahead of the game, and helps us deliver at a much quicker pace. We'll let our work speak for itself, here's a case study to give you an idea of GemPool's quality of work.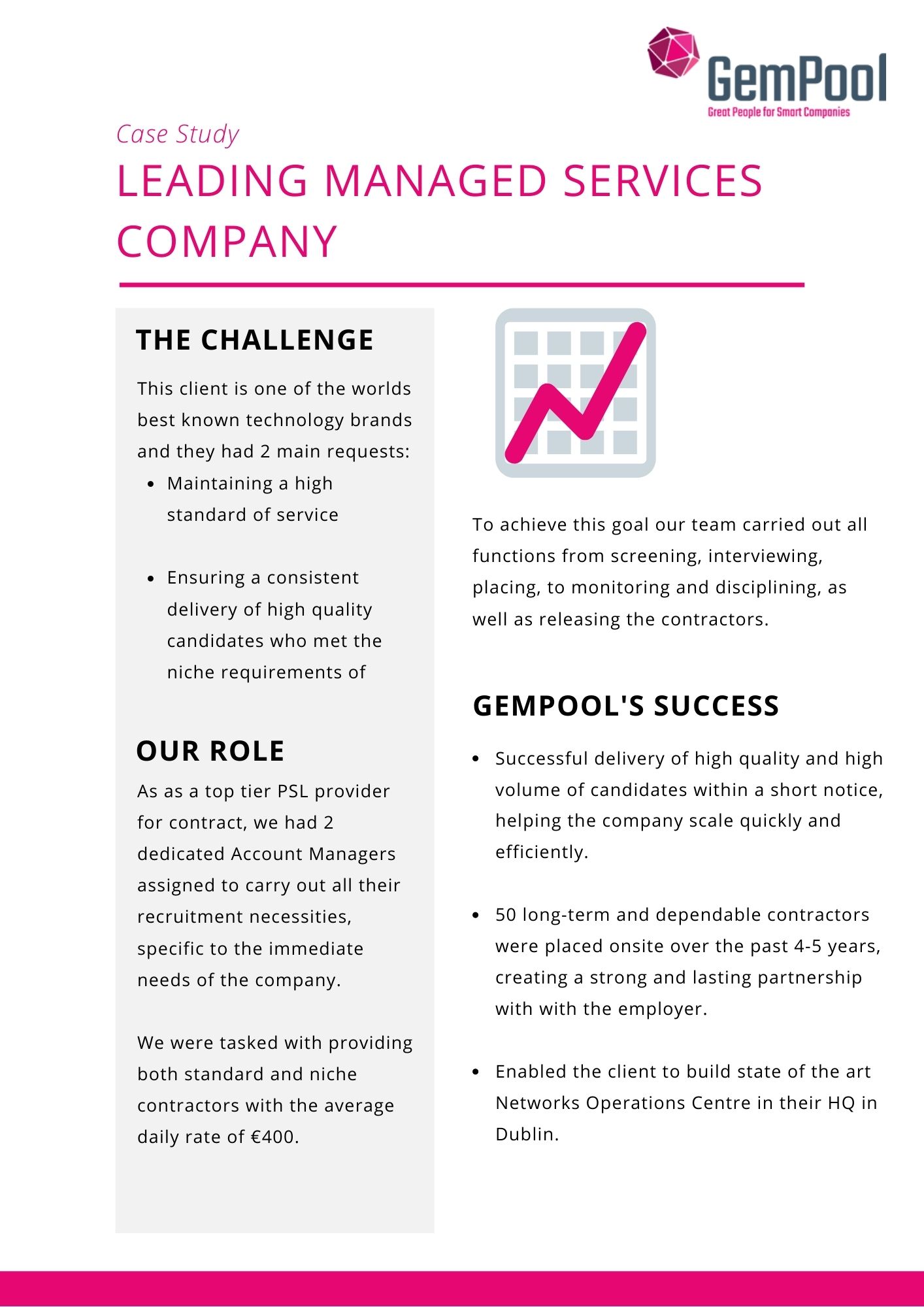 You can have a look at our series of case studies and our experience working with a variety of tech companies across Ireland.
Here's what's included if you partner with us for your recruitment needs:
Access to our tech talent pool and extended network

End-to-end candidate management

Dedicated assigned account manager

Additional branding and advertising

Access to market insights, surveys, salary guides and more
What is the fee structure involved with IT Contracting?
Happy with what you see or maybe you would like something more customised? You can always get in touch for a commitment-free consulting conversation by clicking below.
Let us help you save time, while not compromising on quality. Connect with us today and let us do the heavy lifting on your next tech recruitment drive!
If you're looking for a different recruitment arrangement we have multiple options that might suit your current business requirements: