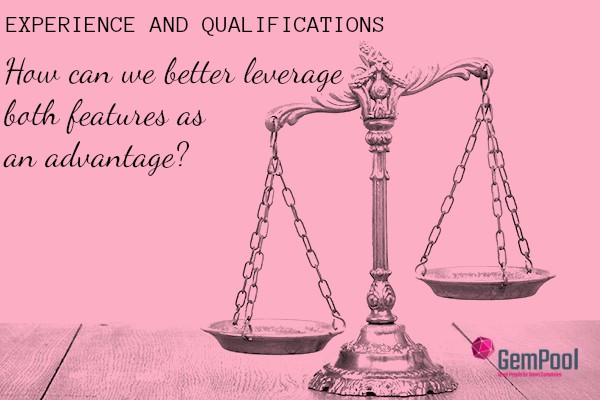 EXPERIENCE and QUALIFICATIONS: How can we better leverage both features as an advantage?
---
Posted on:

IT Jobs and Recruitment Insights
---
In today's business climate, it is common to come across job descriptions that have requirements of both practical experience and academic qualifications. Despite this, what hiring managers value more is left unclear. What is more important? How we can better leverage both features as an advantage?
One way we can answer this question, is that it often depends on the level of seniority. If you are seeking an entry level role, education is playing an important role in the 21st Century Job market, especially in Technology. When a company offers a permanent job at entry level, they will provide the practical training to mould you into the worker they require. On the flip side, senior professional will tend to focus on practical work experience that is more relevant to the job description. They would often have academic qualifications but what separates them from other candidates is their experience. Relevant experience is always desired.
A second point we can consider is the kind of role: If you're looking for a Job as Project Manager, certifications and qualifications are often mandatory. If you're seeking a job as Software Developer, a BSc in Computer Science may be important. If you are seeking a career in Testing, an ISTQB certification could be desired. Of course, these are augmented through experience but certifications are king. Recruiters Job is to assess how closely matched you experience is a role and work with hiring managers on the requirements.
Other positions such as Infrastructure or Data Analytics favour experience over qualifications. In these sectors, strong work experience is a huge advantage for people. Many of us learn by doing, driven by passion. Watching YouTube tutorials or combing through forums and newsletters are some of the main tech training trends in 21 Century. As Steve Jobs once said, 'People with passion can change the world'. That's what companies look for sometimes. The difference a passionate employee can make in the company's growth process is huge.
So what advice should we give? The market now is most competitive than ever and we can't wait for the chance of a lifetime. Creating job opportunities is pivotal. Education is crucial to achieve a good level of experience: it is just with education that we can assure us getting opportunities. Opportunities there will be the key to gain the experience we need to achieve success in our professional life.