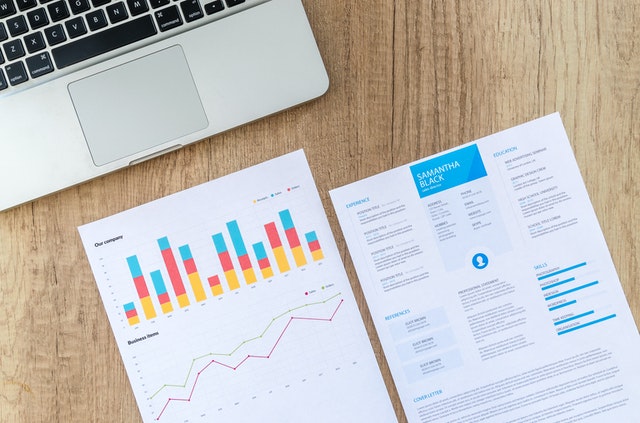 A Guide to Writing your Perfect Tech CV
---
Posted on:
by Namratha Ambat
CV Assistance
---
How can your CV find its way to the top of the pile of eligible candidates? What are the steps you need to take in order to capture the attention of a recruiter and a hiring manager? The recruitment process is ever-developing and more tools are being used to filter through volumes of applicants. With the help of technology and highly skilled recruiters, only the best make it to the interview phase.
Create the perfect CV for tech companies in Ireland
In this blog, we're going to attempt to improve your chances of getting shortlisted for your next dream job opportunity. If you have the skills and experience, don't let your CV hold you back. These pointers below will help you stay ahead of the game in this tech market in Ireland.

What format should I use for my tech CV?
First and foremost, your CV should be tailored to the job and company you're applying to. Sending out one generic CV will not help. You need to capture all the relevant information, under your experience section, that will help the recruiter or hiring manager, see how you'll complement their company.
Now, these are the key points regarding the structure of your CV or resume:
The length of your CV should be a maximum of 2 pages
Use good quality A4 size paper, and only print in black and white, unless of course, your job demands colour
Your name and contact information should be at the top and not in the header or footer
Use clear headings and concise bullet points to highlight your experience
Provide information regarding education, relevant experience, and relevant skills, for the job you're applying for
What words do tech employers look for in a resume?
When it comes to a tech CV there are a few keywords that employers scan and look for. Due to the sheer volume, they receive for every job they post, they use this mechanism to pick the highly relevant ones. The keywords they look for are related to the job description, so make sure your resume appears as an answer to each pointer in the job description. Another thing hiring managers look for in a resume, are action-oriented words. Here's a glimpse of words that can help mend your resume:
If you are a graduate or someone looking to get back into the game and need help on all fronts, here our guide to building your professional profile.
Do you know your CV is read by both humans and AI?
An extremely important point to note is that your CVs are now probably being filtered through AI systems. They are set up to read your CV in a particular manner. If your CV is not modeled for an algorithm, it can be eliminated before reaching human consideration. Hence, your resume should be easy to read for both AI evaluators and humans. So always review your CV for AI.
So how do you prepare your CV for AI?
Ideal font: Use Arial, Times New Roman, or Calibri at pt.12 or pt.10
Sections: Break the information down into concise and relevant sections as mentioned
Avoid acronyms: Systems are built to read acronyms that aren't commonly used. If it is a well-known acronym and is commonly used within the industry, you're probably safe. If it isn't commonly used and is more company-specific, try to stay clear
Use data over lengthy stories: Providing insights into real wins will go a long way in comparison to a story. For example: Mentioning you lead a team of 10 members, to achieve a growth of 15% over a period of 3 months, will be something an AI can digest better.
Highlight your skills: These are the keywords the AI is trained to look for. Make sure you have them listed and listed in relevant areas, as they are now better trained to understand your level of experience with a particular skill set. According to Noam Mordechay, head of enterprise innovation at Gloat, AI is able to grasp the age of a specific skill. So if the case is that, "I've practiced this skill for five years, but haven't practiced it in the past six or seven years", the AI might misinterpret it as a lack of experience. So ensuring it is repeated across different roles and different jobs is key.
Proper job titles: It is key to ensure that your experience section should be filled with job titles, how they're commonly used across the industry. Using customised titles, to a particular company, might not be commonly known and hence reduce your chances of being recognised by AI.
What are the common mistakes made in a resume?
A resume needs to be well crafted and tick all the boxes, sometimes in the attempt to do this many try to go overboard and miss the main points. Here's a list of things to avoid while writing your resume:
Avoid listing personal information such as gender, passport details, marital status, and so on
Stay clear of CV fluffing, trying to make your CV more attractive by falsifying information will not help your case
List the most recent information, avoid presenting information older than 5 years, unless absolutely relevant to the role
Spelling mistakes are not acceptable, always recheck your resume
Here's a resume template and sample that can help you tech professionals in your job search:
Going the extra mile to secure a job with a tech company
Improving your social profile
While selecting an individual for employment purposes there's more that employers and recruiters look into, today. Your LinkedIn profile has become a professional wall of information in the social media world. Having an up-to-date page of your professional journey, along with key pointers, important skills, and previous recommendations listed, plays a part in adding up to a more promising profile.
Your profile is 36 times more likely to be visited if you have a picture of yourself
Make sure your location is accurate
Your profile has a higher chance (27 times more likely) to appear in searches if you've listed your Skills and Endorsements appropriately
Endorsements from previous employers and colleagues help build your credibility
Ensuring your industry is listed within the experience section, helps your profile appear more frequently in searches as well
Stay active on your profile and share relevant content, to enhance your place in your industry as this reflects you as a thought leader
For more pointers on how to enhance your LinkedIn profile please check out the content on building your digital presence.
Working with IT recruiters in the tech market
Many recruiters already have a relationship going with tech companies and will be able to guide you and get your CV looked at faster depending on the relationship the consultant has with the company. They also have the knowledge and expertise to help you when it comes to improving your CV to match a job better, hence increasing your chance of being successful. Transparency is critical, in our experience those who hold back information such as if their CV has gone across to a company. Do not build a strong enough relationship with a Recruiter for it to end in a successful placement in a company. Recruiters by nature are eager to put as many people into jobs as possible, as the majority of times that is how they are compensated. They can only do so much. So they are likely to work with those who are forthcoming with information so the recruiter can help you to the best of their abilities.
If you are in the market and looking for a new job opportunity and need a little guidance along the way, let us help you. You can email us at info@gempool.ie and we can get started on your profile. In the meantime, it would be great if you checked our careers page and sent in your resume for the desired job opportunity.