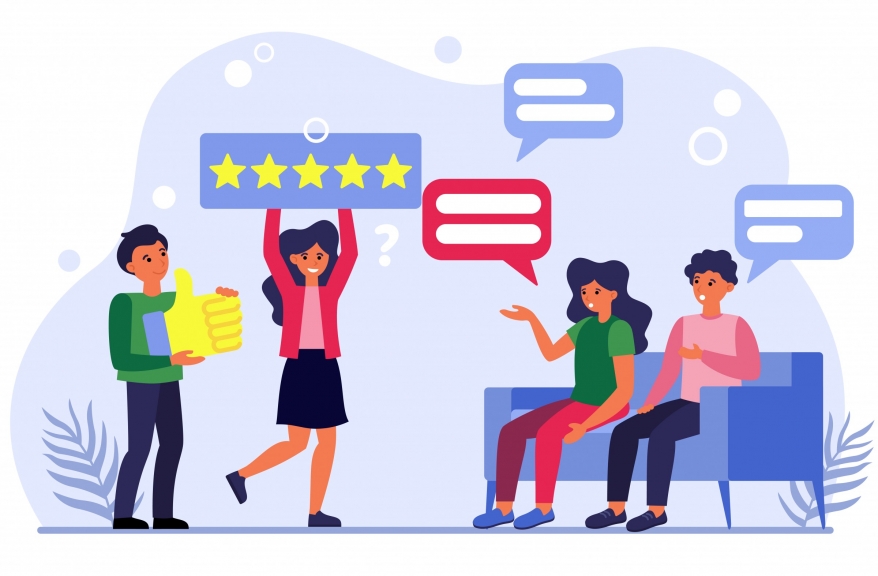 Understanding the Building Blocks of Employer Branding
---
Posted on:
by Namratha Ambat
IT Jobs and Recruitment Insights
---
The concept of employer branding isn't a new strategy, it has been around for a long time. However, it is definitely something that is gaining more and more importance when it comes to talent acquisition strategies in tech companies.
Is your company brand something that is well known? Are you recognised in the market? Do you have the right associations made? If this is something that has not been at the top of your priority list, it's time to focus on it. It's not too late to hop on board, as it will make a world of difference.
Why invest time in employer branding?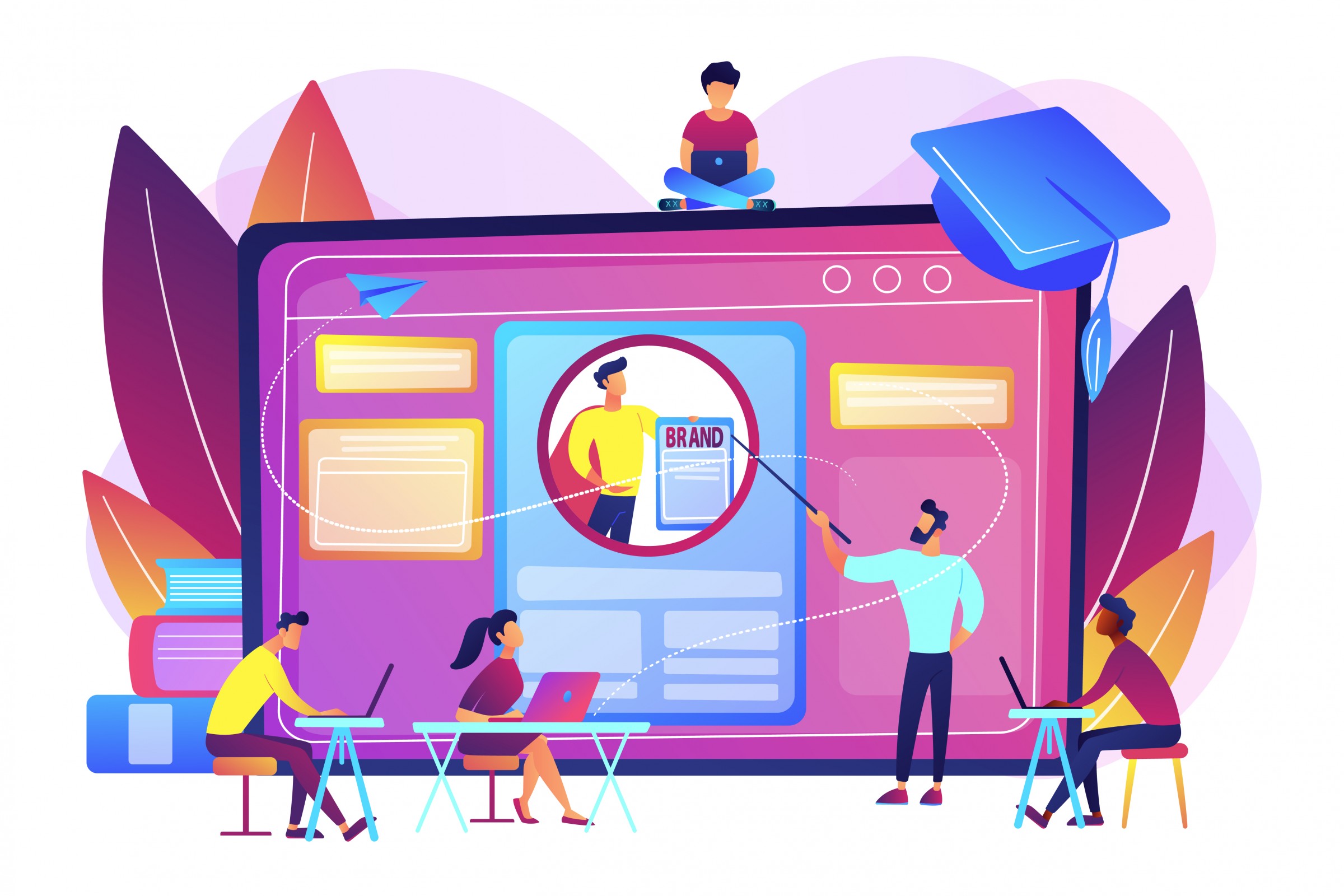 Employer branding basically creates an identity for your company in the market. Potential employees will be able to better understand your company values, goals and culture. Having this knowledge to start with, will not only increase the number of applicants, but will also help in attracting the best fit.
Just as people purchase certain products based on elements or aspects they resonate with, they're looking for those distinctive traits even within companies they work for. The more factors they are able to connect with, the better the chance of them applying to the company.
If you want to win this 'War on talent', it's one of the best assets to have as a company- a strong brand image. Now, what are the steps involved in creating this image?
5 step process for mapping out your employer branding strategy:
Defining your objectives

So what is your ultimate goal here? Understanding this will help you model your employer branding strategy.

Examples for employer branding goals:

Building a more positive reputation in the market

Is it to increase the inflow of candidates?

Is it to improve candidate interaction with the brand?

Reducing cost per hire

Reducing time to hire

To receive more visitors to your careers page on your website

Improve your referral program

Improve faith in your brand

Position yourself as one of the most reliable companies to work for

Increase brand awareness
These are some examples that can help guide the next few steps in your talent acquisition strategy.
Creating your target persona

Using the help of your team it would be best practice to develop person profiles that indicate the type person you're looking to hire.

This will help reduce the time spent on acquisition, as it helps map out what kind profile you're looking for, where to find them and channels to use. It creates an ideal target audience, which would help in refining and creating the most effective marketing message.

Here's an example of for creating a target persona: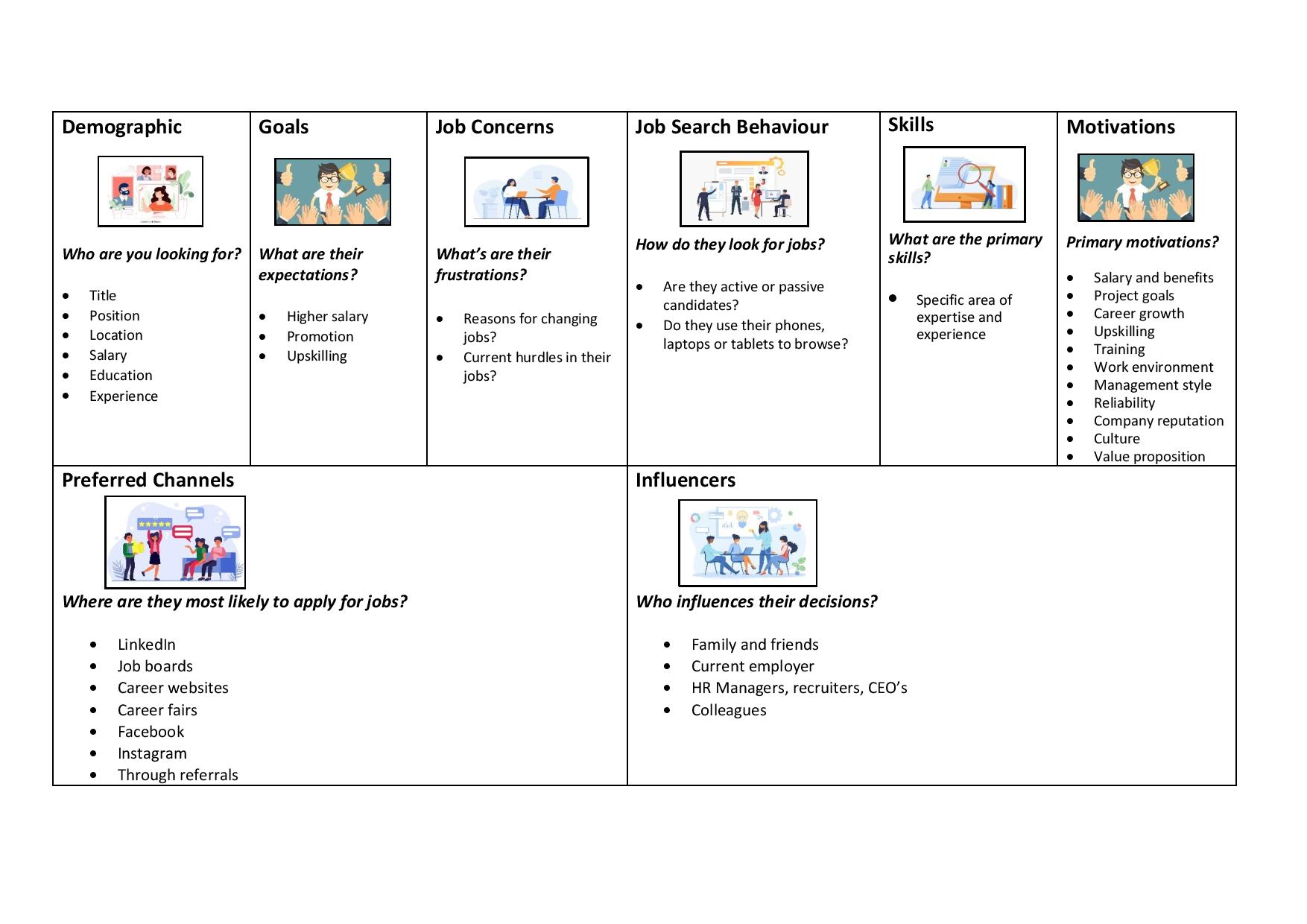 Highlighting current employee values

It would be a good idea to ask your current employees to explain why those chose you. This will help you define your employee value proposition. When these messages are authentically delivered by employees themselves, people are more inclined to trust your brand.

Their opinions effectively act as customer reviews which will help your brand garner a stronger reputation and build more trust within the market. So it's always key to keep your current employees happy, as they could be the star influencers you're looking for!

Finalising your communication channels

Once your persona mapping is complete, the channels to be used will be more well defined. There are said to be around 10 touch points in a candidate journey before they are hired. Understanding those touch points, will also influence the channels you use to communicate your employer brand.

Measuring your results

Once your hires are made, it would be good to reflect on the recruitment drive that was conducted. This will help you better understand what worked and what did not, which channels were fruitful and which wasted your time. It might also help you learn what channels work better for what roles. Creative roles might need different approaches and different channels to technical roles.

It's always a process of learning, but with time, this will be further refined until employer branding is firmly cemented as a critical asset to your talent acquisition efforts.
Ways you can improve employer branding
Your website and social media are worth investing in. One of these two mediums will be the first touch point with a candidate in today's digital age. Along with this, ensure you gain coverage on other sites by providing insights and sharing more content. This will help drive traffic back to your website and simultaneously increase your reach.

The more you share and the more you interact with your audience constantly, the more impact you will have. Brand awareness is a powerful tool!

Establish a good referral system. It has been proven that those employees that have been referred into the company stay longer. Word of mouth is still a strong way to secure more trust in the brand.

Ensure you provide a promising employee experience. As mentioned, word of mouth is strong and an applicant who was treated poorly in the past could tarnish the company name, based on their experience. Successful or not, it is essential to communicate with the candidates.

Sometimes the volume of applications is high, in this case it is good to set the expectations from the beginning by informing the candidates they will only be contacted if they pass the first step of filtering.

Creating a good atmosphere to work and establishing a good culture. Culture is one of the most important decision making factors when it comes to picking a job. A healthy work environment is something all candidates expect while switching jobs.
Employer branding as a service from expert recruiters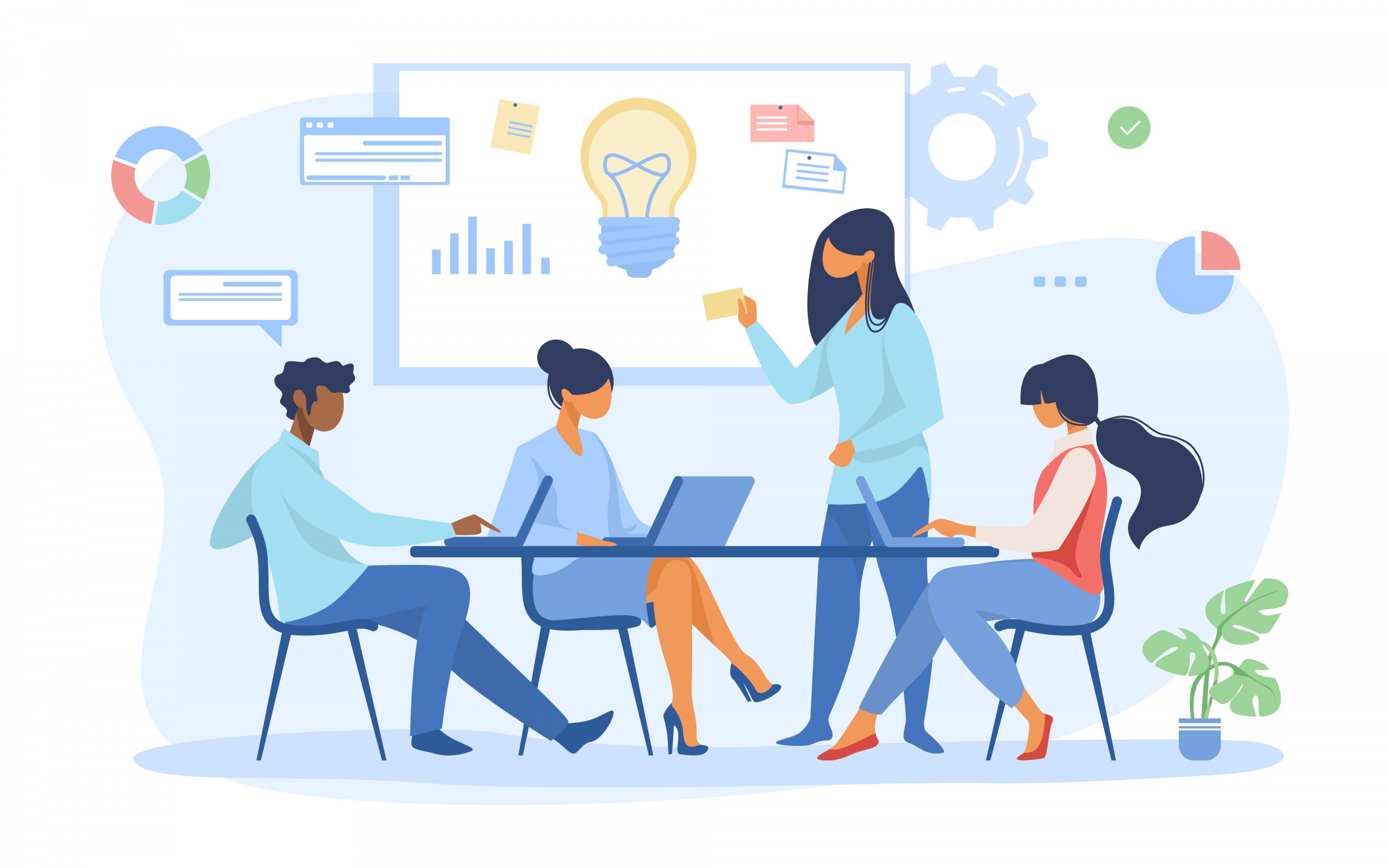 Recruiters are definitely some of the best influencers to have in the market. As it's their job to directly deal with candidates on a daily basis, they are able to deliver the right message.
This is why it is important to acquaint the recruiters you're working with, regarding your values and mission. Once they have a better understanding of this, they will be able to impact the decisions of their candidates and also use their passive candidates sources to deliver the best suited.
As an expert recruitment firm, we act as an extension of you in the market.
What are the benefits of hiring GemPool as your branding advisor for recruitment?
The benefits of working with GemPool to help define and execute upon your brand journey are plentiful and compelling, falling under three main categories:
Lower cost-per-hire

Better retention rates

Faster time-to-hire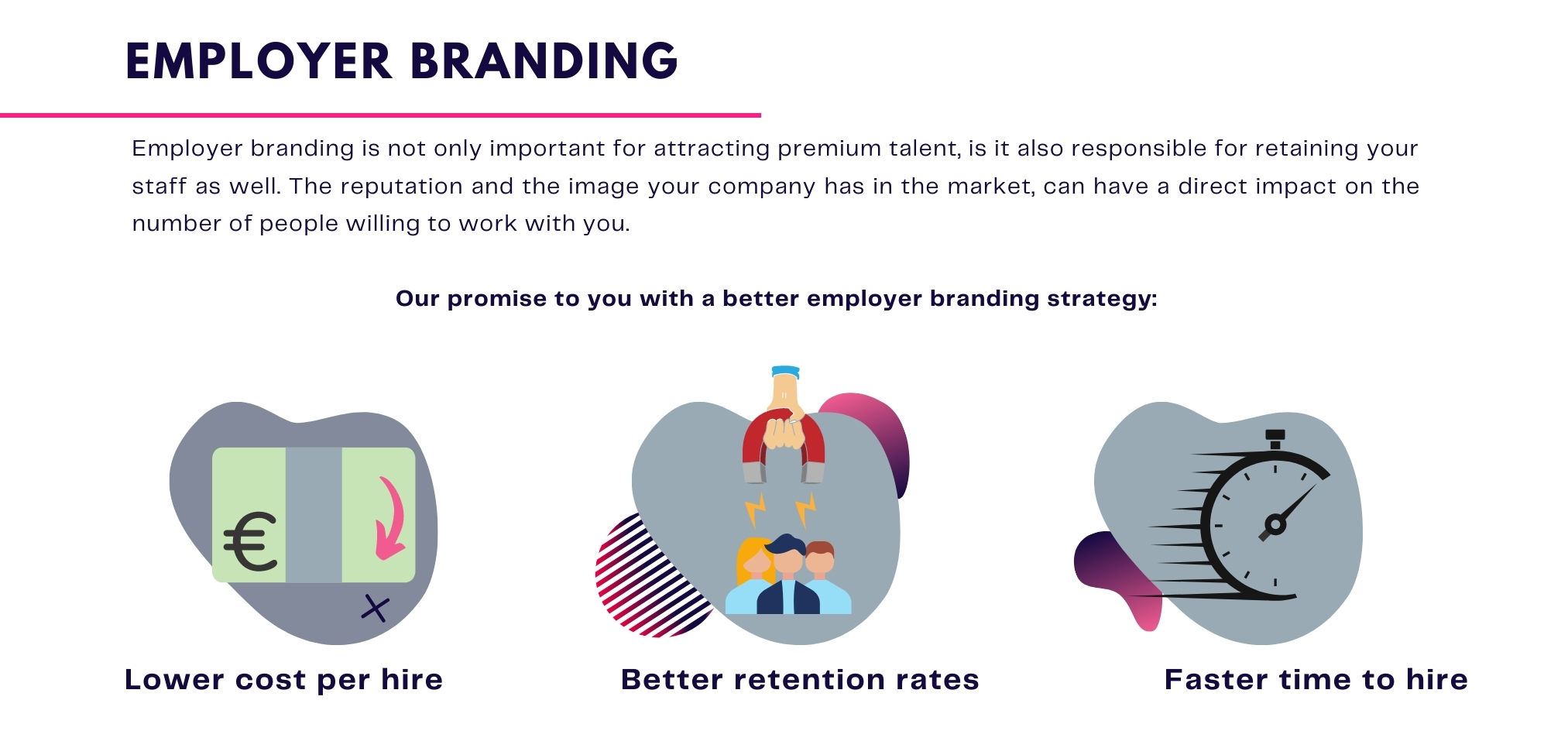 If you like what you've read and are keen to begin your employer branding journey with us, you can get in touch by emailing us at info@gempool.ie and we would be happy to take this discussion further and find the best path forward for your organisation.
You can also find more about our other recruitment services to find the right type of help you require.