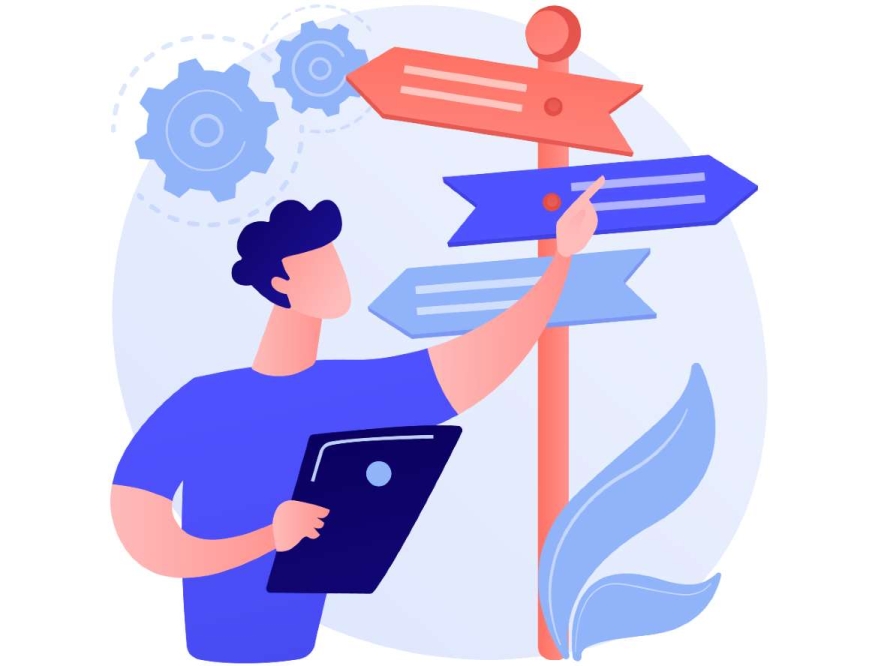 Top 5 Tech Careers to Keep an Eye On
---
Posted on:
by Cathal McAliskey
IT Jobs and Recruitment Insights
---
IT is the driving force behind the growth of modern businesses. Today we see the importance of technology to our everyday lives, and the many opportunities to launch a career in the IT space. With IT constantly changing due to innovation, it's crucial to plan out your career path and choose a rewarding vocation where you can be impactful. Here are some emerging career paths to consider:
Machine Learning/ Artificial Intelligence


Machine learning uses big data to program a machine (such as a self-driving car or digital voice assistant) to perform and carry out tasks like a human. Economic forecasting, image recognition and natural language processing help the machine learn and improve without human intervention.


Educational background required: You will need a strong background in artificial intelligence or computer science, and a master's degree is also desirable. At the University of Limerick, they offer MSc in Artificial Intelligence & Machine Learning. Here students will address the challenge of creating machines with the capability to learn, adapt and exhibit intelligence. AI research is revolutionising our lives and leading us to a world with self-driving cars, automated trading on stock markets, AI-assisted surgery, AI-controlled power grids.

Artificial Intelligence (AI) has been at the forefront of computer science research for over 50 years. AI is one of the fastest-growing areas of the IT industry and research. It has the potential to positively transform every aspect of all our lives, from smart cities and autonomous vehicles to improved healthcare services and low-carbon economies.


Companies to keep an eye on: SoapBox Labs are an exciting company in this space. SoapBox Labs is voice tech for kids. They use Machine Learning/ AI to radically transform how kids interact with technology using their voices. Their low-code, scalable platform is licensed by education and consumer companies globally to deliver world-class voice experiences for literacy and English language tools, smart toys, games, apps and robots to the market.



Robotics/Drones


Blue vector created by vectorjuice - www.freepik.com

As technology continues to evolve at a rapid pace, robotics engineers are in high demand. They must constantly investigate, configure, test and maintain prototypes, components, integrated software and machines. They are usually integral in manufacturing, mining and automotive industries. A robotics engineer is a highly technical job that requires patience and rational thinking.

Soon, we'll likely see several new and innovative ways in which modern technology can help society and business – particularly in healthcare. A degree in robotics or computer science will provide the skills, knowledge and experience needed to break into the field of robotics engineering.


Educational background required: Maynooth University offers a BSC degree in Robotics and Intelligent Devices. Here the students will focus on the design, implementation, and use of intelligent physical things in the environment. These include robots, autonomous vehicles, smart sensors, and internet-of-things devices. In the modern world, many of these things are the basis for brand new services or service improvements in areas like health and wellbeing, assistive living, safety, smart manufacturing, retail, and hospitality.


Companies to keep an eye on: Eiratech Robotics is an interesting company in this space. Their Eirabots™ robots are designed for speed, to pick and replenish stock efficiently. They have fast lifting mechanisms and travel up to speeds of 3m/s. System algorithms ensure that route planning is carried out optimally and regulates traffic. The goods-to-person Eirasystem™ comes supplied with smart chargers, various picking/replenishment station packages, racking and a fenced enclosure.


Drones are small unmanned aerial vehicles flown with AI for shipping and logistics. Drones can reach places people can't and have become integral support for many industries, including construction, transportation, filmmaking, telecommunications, and agriculture. Drones can help with photography, filming, mapping, inspections of various kinds, quantity surveying or crop monitoring. The drone industry is rapidly growing, analysing and monitoring inspection data is sure to be a multibillion-euro industry.



Cybersecurity


Cybersecurity is becoming increasingly important as more businesses collect, share, and use data as part of their practices. The recent HSE data breach highlights the growing need for cybersecurity. The area with the most potential is application-development security. Here you'll be making apps and cloud services safer.

Cybersecurity is the technology and process that is designed to protect networks and devices from attacks, damage, or unauthorized access. It is essential for a country's military, hospitals, large corporations, small businesses, and other organizations and individuals since data is now the cornerstone of any organisation. If that data is exploited, then there are a lot of risks. With cybersecurity becoming so critical to the functioning of all organisations, the job opportunities in this sector has also grown.


Educational background required: The National College of Ireland provides a MSc degree in Cybersecurity. Here you can develop in-depth expertise in cybersecurity such as information security, secure programming, network security, penetration testing, malware analysis, IT law and ethics. You will learn technologies and tools that support application and service vulnerability detection, incident detection, data and log retrieval and analysis.



Companies to keep an eye on: A cool company in the Cybersecurity space is Rapid7. Organisations around the globe rely on Rapid7's technology, services, and research to securely advance. The visibility, analytics, and automation delivered through our insight cloud simplifies the complex and helps security teams reduce vulnerabilities, monitor for malicious behaviour, investigate, and shut down attacks, and automate routine tasks.



Data Science/Big Data


Technology vector created by vectorjuice - www.freepik.com

Data scientist was called "the sexiest job of the 21st century" by the Harvard Business Review (HBR). Within Data Science, there is a high demand for individuals who can evaluate data to help companies make business decisions; however, there is a relatively low supply of qualified candidates.

A data scientist is one of the highest paying jobs across the IT industry. They are those who solve complex data problems with their strong expertise in certain scientific disciplines. They work with several elements related to mathematics, statistics, computer science, however they may not be an expert in all these fields.

They use the latest technologies to find solutions and reach conclusions that are crucial for a company's growth and development. Data Scientists present the data in a much more useful form as compared to the raw data they receive.

Big data analysis pushes the modern business world forward, which is why more and more companies are integrating artificial intelligence and machine learning into the analytics process. However, there still needs to be someone who can separate the crucial data from the non-essential information and help collate all of it into actionable reports.

Big data is not a single technology but a combination of old and new technologies that helps companies gain actionable insight. Therefore, big data can manage a large volume of data at the right speed and within the right time frame, to allow real-time analysis and reaction. Big data is typically broken down by three characteristics:

- Volume: How much data

- Velocity: How fast that data is processed

- Variety: The various types of data


Companies to keep an eye on: Dun & Bradstreet are a company that uses a lot of big data. They are a leading global provider of mission-critical data and insights to help companies compete, grow, and thrive. Delivered through the Dun & Bradstreet Data Cloud and market-leading solutions, their data and insights help companies accelerate revenue, manage risk, lower cost, and transform their businesses. If you are interested in a position working in Big Data Analytics, check out our careers page.


Augmented Reality/Virtual Reality



App vector created by pikisuperstar - www.freepik.com

AR is a set of viewing technologies that allow viewers to see the real world around them. AR products then use various techniques to overlay computer graphics and sound over a participant's vision and hearing.

VR is a computer-generated 3D virtual world, with a 3D soundscape. VR worlds are closed environments that don't directly link to the real world. Participants have navigational freedom; they can move anywhere that their virtual world allows. Sony PlayStation VR uses the PlayStation camera to track head and body movements more precisely. High-end VR requires orders of magnitude more compute and graphics capabilities than today's smartphone-based entry-level VR.

Augmented reality and virtual reality are the future, especially with companies increasingly leveraging AR and VR technologies to innovate products. There are many uses for AR and VR technologies across modern businesses and industries around the world. For example, the E-commerce industry is increasingly utilising AR and VR to make online shopping a more immersive experience. However, all these products will need to be optimised for AR and VR viewing.


Educational background required: Trinity College Dublin offers a Master's degree in Computer Science - Augmented & Virtual Reality. This course equips students with theoretical and practical knowledge to enable them to participate in the design and development of the technology that underpins the fast-moving video game market as well as providing transferable skills relevant for careers in the wider industries of interactive entertainment, new media and communication.
From the information above we can see some exciting career paths within the modern-day IT industry. Technological advancement will continue to create numerous opportunities in a variety of tech fields and industries. Be on the lookout for these trends and openings if you want to launch a successful career in the Irish tech sector. To find a new position in one of these emerging spaces, visit our careers page or if you're looking to hire IT professionals in these areas check out our services page.
IT is always changing, let's keep up!