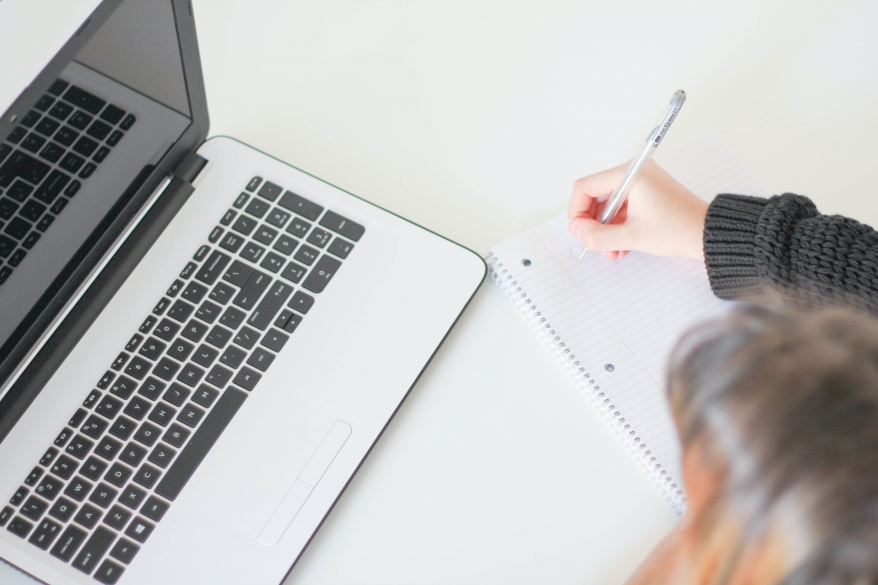 Key Points To Check While Building Your Professional Profile
---
Posted on:
by Namratha Ambat
CV Assistance
---
The job market has suffered a great deal due to the COVID-19 outbreak. As a result, there are many finding it tough to make a switch or even find a suitable job opportunity. In light of this tough situation, we decided to put together a webinar around building and improving your professional profile. The webinar was broken down into 4 parts that concentrated on 4 areas that are important to ensure that you are ready for your next opportunity.
CV example- Template and structure
Your CV is your first point of communication when you apply for a job. Having an apt structure and the right content in place will help you move forward in your interview process. Robert Hourie from GemPool Recruitment helped create a CV example/outline, as well as provided a few detailed tips that can help you check all the necessary boxes while applying for your next opportunity.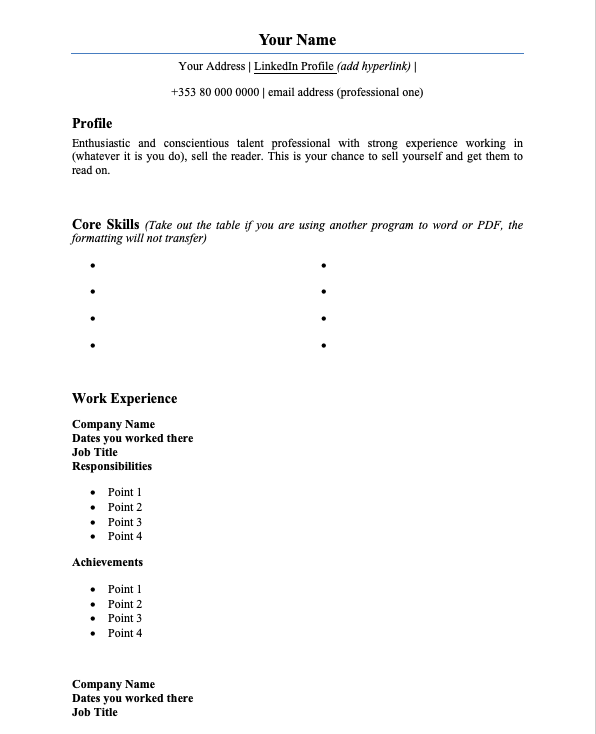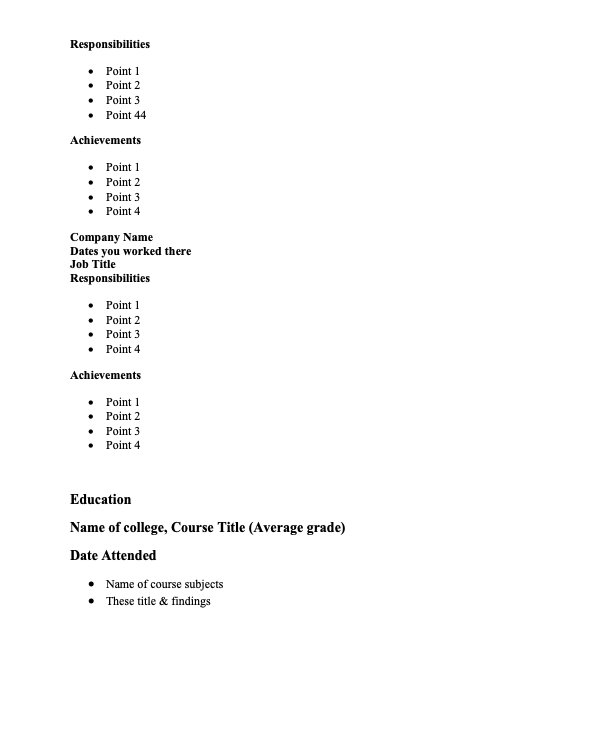 Tips for writing a CV:
Keep it simple. Print the CV in black ink on white A4 sized paper
Use a clear, easy to read font like Arial or Times New Roman
Limit it to two pages of the most relevant and important information about you
Start with your name and contact details at the top so that they're easy to see (not in the Header or Footer)
Include your education, qualifications, relevant jobs and work experience, achievements and interests that help prove you've got the right skills for the job
Look carefully at the job description and emphasise the skills or experience mentioned
There's no need to include information that's more than five years old, unless it's relevant to the job you're applying for
Don't include personal information such as your gender, nationality, marital status or a photo of you
Don't lie or embellish your experience and skills. You'll get caught
Make sure you can account for any gaps in your CV – as you may get asked about this at interview
If you're asked for referees, include the contact information of a past employer, teacher or sports coach - Make sure to ask that person if they will give you a reference in advance, if you're not asked write 'References available on request' at the end of your CV
Tailor and change your CV for each job you apply for
Read over the finished CV a few times and make sure there are no spelling mistakes
Get someone else to read it and check it for mistakes and typos before you send in your email
Send it to yourself as well to make sure the formatting is correct
If you're emailing your CV, make sure to save the doc in your own name. If it's just 'CV.doc,' it will get lost in a pile
CV language
Keep sentences sharp and positive. Some examples are "Developed training manual for new employees" or "Gained valuable experience in team-leading and problem solving."
Be concise because chances are, your CV will be scanned in 30 seconds
Use action verbs to highlight your achievements, not verbs such as "Responsible for"
Use bullet points to list your duties, skills and achievements in recent jobs
Try to be original, even when it can be tough trying to describe yourself. Some of the most over used words include:
-Motivated
-Enthusiastic
-Passionate
-Driven
Creative
-Extensive experience
-Ambitious
-Responsible
Some can't be ignored, but try some of these:
-Achieved
-Improved
-Trained/Mentored
-Managed
-Resolved
-Launched
-Created
-Volunteered
-Influenced
-Won
Don't include unnecessary information just to fill space
Keep your CV positive. Make sure to talk about your achievements and don't include what you can't do
CV checklist:
Does the formatting look nice and simple?
Did you included a mobile phone number and an email address that you check regularly?
Did you leave out personal information such as your gender?
Did you include your education, relevant jobs and work experience, achievements, skills and interests?
Did you stay honest about your qualifications?
Did you use positive and concise language?
Did you use action verbs to highlight your achievements?
Is your CV relevant to the job you are applying to? Did you tailor it?
Did you include a cover letter with your CV?
Did you proofread for grammar mistakes?
Did you get someone else to read over your CV?
Is your CV document saved under your own name?
Building your digital presence through LinkedIn
Today, maintaining a LinkedIn profile is key. It helps with networking, brand building and most importantly helps to easily engage with new opportunities. One of the most important factors while creating your LinkedIn profile would be to ensure it matches the CV you're sending in to the company as well. We had Mark Valentine from LinkedIn join us to help shed light on some of the important features when it comes to maintaining a LinkedIn profile.
A few key statistics and key takeaways regarding your LinkedIn profile:
Use a relevant background and a professional picture. Somebody with a profile picture gets almost 9 times more connection requests than someone without one. You are also 36 times more likely to receive messages if you have an up-to-date profile picture
The headline below your picture is more to depict what you do, in a more interesting way rather than just a title to capture recruiters' attention
Update your location as accurately as possible
Use the "About" section to highlight your technical skills, this will help you appear in LinkedIn searches, but ensure that it is brief
Use the "Featured" section to make your profile more comprehensive and colourful. Think of your own expertise and how that can be displayed in a more creative way and attach that in this section
Stay proactive on LinkedIn. All our interactions are displayed in the "Activities" section of the page, make sure you are sharing content so that people are able to capture your areas of interest and also indicates you're adding value back to your connection base
In the "Experience" section, it's important to show- who you are, what you did and the impact you made. This is best depicted in the form of bullet points
In the "Experience" section it is also important you add in the industry you work in. When you have, an industry listed in your profile, you appear 19 times more in searches
In the "Education" section, have the institution and the date range you attended
"Licences and Certifications"- if you have any courses you have taken, add in the certificates, as it helps build your credibility
"Skills and Endorsements"- People who have skills listed against their profile, have 27 times more appearances in searches than people who don't
When you have skills listed, it gives people the chance to endorse your skills, that adds credibility to the level of your skills
Make sure you have your core keywords, like the ones in your CV, listed as a skill
Having recommendations helps enhance your profile
Further if you're looking for useful courses, here something for you: Transform your personal brand Click to Take Course.
Recommended courses for upskilling while working remotely
Using this time to refine your skills and pick up new ones, will help you go a long way. We had Ed McDermott from Pluralsight join us to provide fresh insights and direct us towards platforms that are helpful. Some of these platforms are delivering free services or giving out beneficial offers during the COVID crisis.
Why should you invest time in upskilling?
Helps broaden your search
Builds out your CV
Increases confidence
Helps you in an interview setting
Builds positive perception in the eyes of an employer
Training platforms to engage with:
5 Strategies to increase a job seekers chances of securing a new role
There are different channels and approaches you should be looking into while applying for new jobs, you never know where your next opportunity might come from. Michael Lantry from GemPool Recruitment broke this down into the following steps:
Job Boards: This may seem obvious but there are many reasons why this is key:
-There are live jobs that you can apply to
-Ensure you follow up directly with the company you apply to try to stand out from the crowd
-Set up job alerts on job boards so you are the first to know about new roles
-Add your profile to the job board databases so that you can be found
Recruiters: Engage with a recruiter who specialises in your area. E.g. if you are a Java Developer, find a recruiter who only places Java Developers. Here's why:
-The recruiter will know the market inside out and can advise accordingly
-The recruiter is likely to have roles that are not otherwise being advertised on job boards and company career pages
-The recruiter will hopefully give you honest representation that is best for your career
Networking: Get proactive about networking in your area. Identify 50 companies that you would like to work for or that you admire. Then connect in with someone who would be a potential hiring manager in that organisation. Ask for a 15 minute call to pick their brain about the market, the company or their background. You would be surprised by how many will take the time to give you their opinion. Who knows who they can then introduce you to, or they themselves could end up with a suitable role for you in the future
Work Smart: Target industries that are thriving during this pandemic. Also, keep you options open to contract roles as well as permanent full time positions. Some of the industries doing well right now are:
-MedTech
-e-Commerce
-Internet Infrastructure
-Insurance
-Food
-e-Learning
-Pharma
Friends & Family: Don't be afraid to ask for guidance, advice or introductions through your friends and family. This is an excellent way to find your way into a new role
Hope this was a helpful session and you were able to take something useful away from this. We're looking to conduct more webinars around different topics that might be beneficial to candidates during this time. If you have any further questions, do get in touch with us and we'll try our best to help you out. If you're looking for a new job in the tech marketing you can click here to browse through our live jobs and apply for one that suits.
Contact: info@gempool.ie
Phone: (01) 486 6200