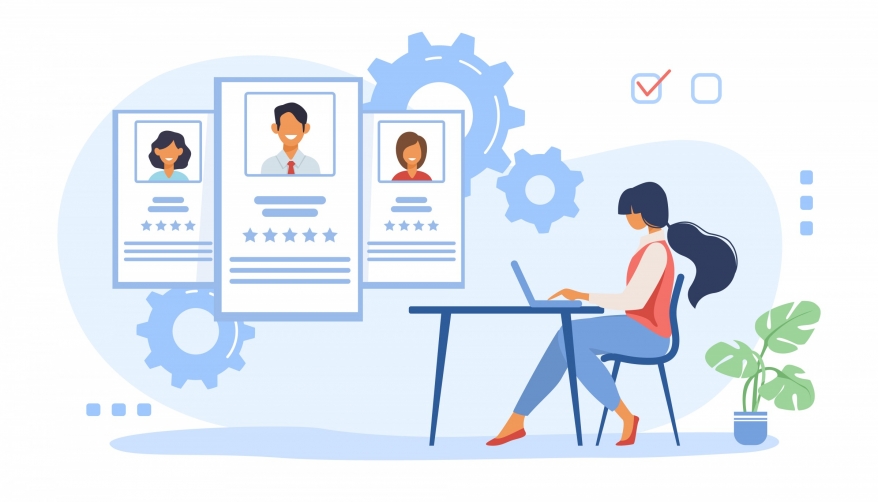 Top 5 Insights for the Irish Tech Sector in 2021
---
Posted on:
by Michael Lantry
IT Jobs and Recruitment Insights
---
We are living through an ever changing and extremely turbulent time right now. This is true for nearly every industry in Ireland. The rule book on how we work has been torn up, and is only just beginning to be rewritten.
The tech industry in Ireland specifically, has also been through a lot over the last 12 months. As we make our way through 2021, we are starting to see some more solid predictions coming from various corners.
What are the current predictions for the tech sector?
The ERSI predicts a 4.1% growth in GDP in Ireland in 2021, with the majority of growth in the second half of the year. The Central Bank also predicts growth (a more modest 3.8%). However, these predictions are all predicated on the successful rollout of a vaccine in Ireland. These signals are welcome news after what has been a very difficult year for most businesses.
ICT is a highly resilient sector. In Ireland, according to the recent NTMA report, the ICT sector delivered 16% growth in gross value added between Q1-Q3 2020. Quite remarkable considering the state of so many other sectors, and the wider economy.
It's impressive that the ICT sector has been able to hold firm, even while many aspects of the industry have changed. For example, the shift to working from home for so many presented big challenges for organisations who weren't accustomed to this back in March 2020. But this was quickly overcome and then the focus shifted to how companies can effectively hire and onboard remotely.
Based on conversations with our clients and the wider market, these challenges have also been effectively met. We have heard a lot of discussion over the last couple of months on how to maintain engagement of staff, support their mental health and also foster interpersonal relationships, when no one is meeting in person.
From all our discussions with both candidates and clients, as well as the wider tech community, here are 5 key observations that we are now seeing in the market.
Equality, Diversity & Inclusion

Business vector created by gstudioimagen - www.freepik.com
The focus on equality, diversity and inclusion (EDI) is not new. This is something that has been at the top, or near the top of the agenda at Board meetings for years now. Whereas in the past, it was more of an aspirational tenet, now EDI is built into an organisation in a far more purposeful way.
This is particularly true for larger organisations who will have EDI policies, training and leadership. EDI has become a measure of success in a very tangible way. The way that companies engage with talent, interview and hire staff is all done deliberately to move away from the unconscious biases that drove that inequality in the past.
These endeavours are not just about being politically correct either. Having a more diverse workforce has been proven to drive performance within an organisation. There is still a long way to go, and we are nowhere near a place where the ICT industry can claim that it treats all people equally. However, the more that EDI is woven into the culture of organisations then stronger our industry will be.
Our tech market insights:
According to LinkedIn, of those professionals categorised as working in ICT functions in Ireland, 71% are male and 29% female.
This is probably not a surprise for most, but it speaks to the composition of the talent pool available in this sector, in relation to gender. Taking this one inequality as an example demonstrates that, on a practical level, it's not as easy as putting in EDI policies and training your leaders about inclusion. Fundamental and systemic shifts will need to happen, all the way back to primary education level.

The world has been forced into completely overhauling a lot of work processes. Right now, most people are working from home. A recent survey from NUI Galway and the Whitaker Institute (October 2020), found that 68% of workers were currently fully remote. Even more conclusive was that 94% of respondents want to work remotely some, or all of the time, post-crisis.
There was certainly a move towards remote working happening in workplaces before March 2020. The ERSI report (May, 2020) on working from home in Ireland, pre-Covid, found that the ICT sector had one of the highest percentages of employees working from home at 36%, and the trend was growing. This was gradual, but the on-set of Covid-19 accelerated this.
Our insights on remote working:
From talking to tech companies in the Irish market, the vast majority do not plan on a fully onsite workforce, when we come out the other side of Covid-19. For most, a hybrid policy is what is expected with staff onsite for maybe 2 or 3 days per week and at home the rest.
This is really exciting for the industry as it has opened up new possibilities to hire staff further afield and abroad (in cases where they are fully remote or perhaps coming in once a month for a few days).
For candidates, having a flexible work arrangement is now a must have. For those companies who are not offering it, they will struggle in 2021 to attract and keep talent. This has become a critical factor in the decision making process for candidates in the market.

Technology vector created by vectorjuice - www.freepik.com
When we consider the technical developments within the ICT sector, one key trend stands out. This is the increased dependence of organisations on cloud technologies. This is particularly prevalent in the job specs we are seeing.
For most tech companies, building software for the cloud is the future. With this comes a need for tech talent with experience in cloud technologies, like AWS or Azure. These cloud hosting companies are few, but ubiquitous.
Current market insights:
In the case of AWS, there is a 34% increase in the number of people listing this as a skill on LinkedIn, over the last year. Other growth skills are development languages like Python (29% growth) and R (26% growth). However, the skill that has seen the most growth over the last year is Data Analytics with 65% more people listing this now than a year ago.
It's not just knowledge of specific technologies and tools that we are seeing, it's also broader skill sets and methodologies. For example, the demand for DevOps professionals has increased a lot over the last year, as well as the demand for knowledge of CI/CD (continuous integration/continuous development).
This will continue throughout 2021 as our digital world grows its footprint, driven by technological advances and supercharged by Covid-19.
Dominance of multinational companies

Templates vector created by macrovector - www.freepik.com
The Irish tech industry is heavily dependent on foreign direct investment (FDI). The IDA does a fanatic job of attracting tech companies to Ireland. We can see that from the presence of companies such as Amazon, Microsoft, Google, Mastercard and Fidelity Investments, to name but a few.
Insights on multinationals in Ireland:
In fact, according to our research using LinkedIn, of the top 10 employers of ICT professionals in Ireland (by headcount), only three are indigenous organisations (AIB, Bank of Ireland and ESB).
Of all the ICT professionals in Ireland, about 45% are working for IDA clients (tech companies that come into Ireland and set up offices here). This is a huge number. It's fantastic to see all this FDI into Ireland, and long may it continue.
However, it does create some tension within the tech talent market. This is in respect to smaller, indigenous companies struggling to compete with the larger multinationals. This can be seen in the salaries that are offered but also the benefits packages.
These larger organisations will very often have fantastic work environments (although not as relevant now with remote working). This tension is evident across the industry in Ireland not only in terms of company size but also location.
It has been hard to attract talent in certain regions of Ireland over the last few years. But this is something that is balancing out now that people can live further away from their place of work, due to flexible working arrangements.
Demand for tech talent still very high

The tech talent market in Ireland has been candidate driven for years now. This is where candidates are low in number and jobs are plentiful. Until Covid-19 arrived in Ireland, this was the case.
We saw a short flip to an employer driven market from about April to July in 2020. This was because of the flow of talent onto the market from redundancy, companies being prudent and downsizing. This was short lived however. As the tech industry proved quite robust throughout 2020, those companies who were doing fine hoovered up that talent quickly. By September, we were back to a candidate driven market.
Insights on demand for talent in the technology sector:
When looking at ICT professionals within Ireland, by sector, our data sources give us a clear sense of the demand. Across the IT & Services, Computer Software, Financial Services and Internet industries, the demand for talent is categorised as 'Very High' on LinkedIn.
This measure is based on the average number of recruiter InMails sent to professionals in a particular industry over the past 12 months, compared to the average number of InMails sent to ICT professionals who are in the other industries. To further cement the earlier point about multinational companies, the top 3 employers (by headcount) across the listed industries above are all IDA clients.
How is the tech industry shaping up in 2021?
Overall we expect 2021 to continue to be a growth year for the ICT sector in Ireland. The sector has proven to be highly resilient and adaptive to change. We can see here that there are some clear trends and movements within the sector which will continue to dominate hiring decisions and the ability for companies to attract and retain tech talent.
For GemPool, we are bullish about the prospects for growth in our sector in 2021, particularly in the second half of the year. We spend each and every day talking to companies and candidates about the market, the challenges and opportunities that they see.
We are happy to share any tech insights that we get. If you would be interested in any specific, tailored market data, relevant to your organisation or industry, please just reach out to us on info@gempool.ie and we will do our best to provide useful information to you.