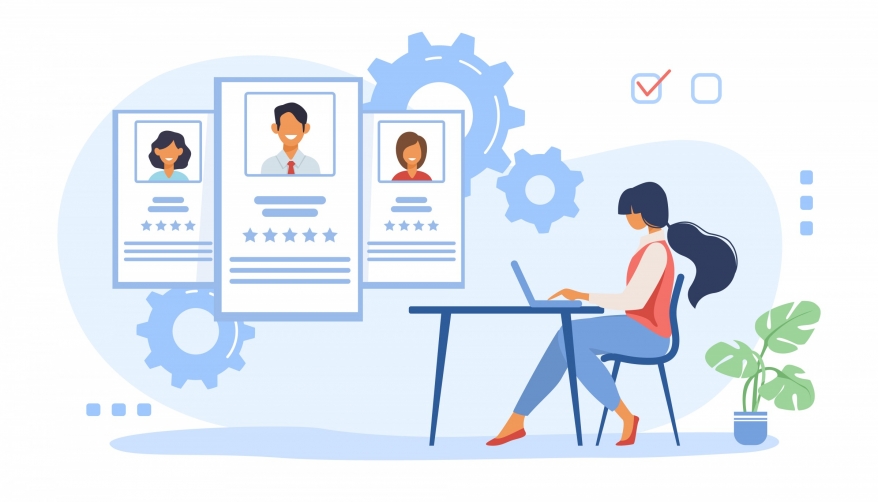 Top 5 Insights for the Irish Tech Sector in 2022
---
Posted on:
by Namratha Ambat
IT Jobs and Recruitment Insights
---
The rules have changed, certain critical topics are taking the centre stage and new chapters are being written. The tech industry in Ireland has been through a lot over the last 2 years. As we make our way through 2022, we are starting to see some more solid predictions coming from various corners.
The last two years have been a huge learning experience, both employers and candidates in the tech market have grown and evolved in their own ways. Let's take a closer look at some of the topics below.
What are the topics in focus for 2022?
It's a candidate owned market


The recruitment market has completely bounced back from its initial setback in 2020 and is significantly tilted in favour of candidates once again. So, what does this mean and what are some key trends we have noticed lately?

One phrase that has made its rounds about the IT industry since early 2021 was the 'great resignation'. As mentioned in the Harvard Business Review- Who is Driving the Great Resignation, the great resignation was predominantly seen in the tech and health care sector.

Candidates were well aware of the demand for new talent, giving them more opportunities to apply, and exhaustion from the excess workload and pressure caused many people to rethink their goals.

Simultaneously employees/candidates in the market, as a consequence of Covid, switched careers paths by using the downtime to train and build up their profiles and acquire new skills, giving them an upper hand.

So, what does this mean for 2022? Looks like the great resignation might taper off as the year goes on, according to SHRM. However, for recruiters and talent, acquisition professionals there remains a window of opportunity to engage and attract new talent to organisations.

On the other hand, one of the main focuses of companies everywhere is employee experience and retention. With the power that lies in candidates' hands at the moment, and with the abundance of opportunities, higher salaries and major benefits, employers need to focus on retention.



Establishment of flexible working arrangements

In this candidate owned market, one of the most popular demands is a flexible working arrangement. Previously, 'work from home' was an added bonus and now it's the norm.

We recently conducted a survey in the Irish Tech Market to understand what working arrangement was most favoured, with talks surrounding the return to work becoming more frequent. Here are the results below:

The results were pretty significant and highlighted that a fully remote job was most popular amongst candidates and anything over 3+ days on-site was not welcomed.

However, having a day or two in the office did receive support as well, as employees do consider this an essential element to maintaining culture.

So, if a company is looking to transition back to 5 days onsite, they would need to consider their options in this competitive, candidate-driven environment. Looks like there is no room for inflexibility.

Important pointer: Communicate with your team. Explore what they have to say and arrive at a fair conclusion. Try to avoid springing information on the team, as this could lead to negative responses.



Focus on Employee Value Proposition (EVP)


It's tough to not sound repetitive at this point, but in a market where the power lies in the hands of the candidates and there exists severe competition, you need to give the candidate a reason to jump on board. That's where a well defined Employee Value Proposition (EVP) comes into play.

An effective EVP not only helps in attracting new talent but also, helps in retaining employees. It has been proven time and again that a strong brand is one of the best sources of candidate attraction. Today, we're seeing a greater focus being added to enhancing the Employee Value Proposition.

These are the top areas to focus on while developing your EVP:

- Company culture and environment

- Job profile and career development map

- The benefits package

- The training and development options

- The area of impact

Pro tip: Gather first-hand feedback and input from your current employees, this will give potential candidates an honest insight into the company, making it an even more attractive opportunity.

It's also important to note that while it's critical to attract candidates to the company, it's equally, if not more important to retain existing employees. It's great to put in the work to draw talent, but no use if you lose them eventually. So, how is it that you achieve this? It starts at the very beginning, from the initial point of contact, i.e. the recruitment process, the onboarding session and consistent communication. An effective employee experience can go a long way.



DEI&B Initiatives


There's a higher emphasis surrounding DEI&B initiatives within organisations. Taking quick and deliberate actions is necessary.

We've all heard about the situations in which there has been social media outrage regarding companies with low levels of diversity. It's not something that is only being noticed by direct applicants or government quotas; direct stakeholders are taking notice- users, buyers, partners, competitors, shareholders. This is no longer a bragging right but a bare minimum expectation.

Candidates, especially females, are asking the question "What percentage of leaders in the company are women?" And why shouldn't they, if they don't see themselves represented in the leadership positions, why would they expect to see themselves in them?


So, what are some simple steps an organisation can take to make a difference?


- End manels: All male-panels. Educate your teams and employees regarding the impact they can have by skipping such virtual or in-person events.

- Lead by example: The best way to set the tone for a team or an organisation is to see the leaders and managers making deliberate changes.

- Developing strategies for retaining a diverse workforce

If you'd like to learn more, head over to our blog on 'What does a gender-inclusive leader look like?' and make an impactful change.



Growth in salary levels

Salary levels in the IT market in Ireland have experienced drastic changes due to many factors. The shortage of skills in many areas, like Engineering, for example, has seen a sharp 20% rise and an increase between 10%-15% in Software Engineering.

One of the key factors that have been impacting the salaries being offered in the market is the presence of multinational companies that are able to offer significantly higher rates.

Our recent salary guide sheds light on the growth in different sectors with tech. You can download the guide here.

The pressure to build teams is very high and, therefore, we are seeing this inflation of salaries more often and set to increase further through 2022 and 2023, as demand for IT talent grows.
These are some of the key trends we have spotted across the industry. If you would like to discuss them in further detail, please get in touch by emailing us. We would be happy to share any insights with you.