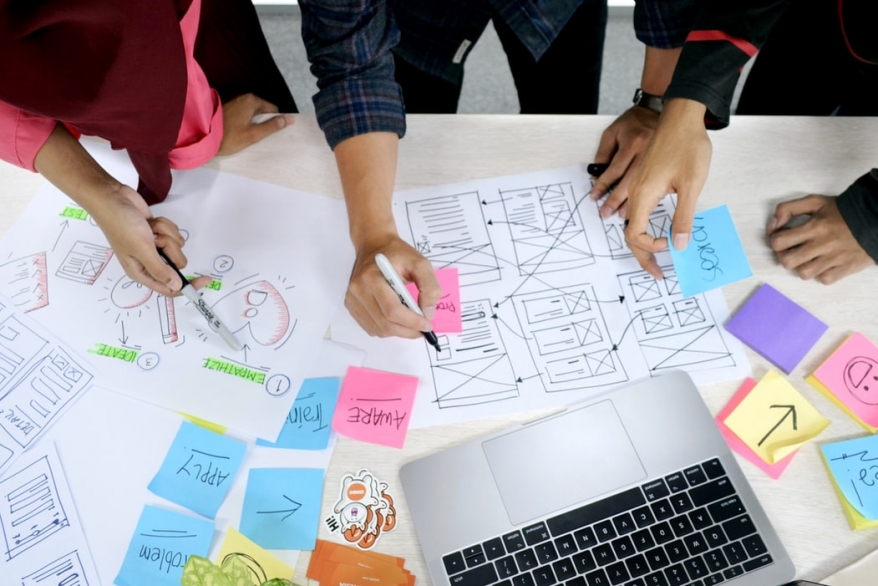 Thinking Of A Career Change? Why Not UX/UI Design
---
Posted on:

IT Jobs and Recruitment Insights
---
Over the last few weeks I had the pleasure of talking to a number of really talented individuals who are looking to change careers into a more creative field. After some research, many have come across UX/UI Design and realised that THIS is what they want to do when they "grow up".
For those who do not know, UX or 'User experience' and UI or 'User interface' design, is design that takes place for a digital medium. You can be a UX designer, UI designer, or both, however it is important to understand that they are two different disciplines.
UX vs UI Design
As the name suggests, user interface, or UI, is a digital medium that a user interacts with. This can take the form of a screen, touch screen, light, or even sound. A UI Designer is in charge of designing and prototyping of the screen(s). It's hard to imagine a website without any UI, where there are no buttons that will bring you to the next page, or no navigation bar for you to find what you are looking for. This, however, was the reality in the 1970s, where the only way to navigate a computer was through the use of programming languages and coding. It wasn't until 1975 when Graphical User Interface (GUI) was developed at Xerox PARC, bringing the experience to another level as the user didn't have to have any prior coding knowledge. Icons, buttons, menus, and checkboxes were introduced, and the point and click mouse that we know so well today was brought into our lives by Apple in the 1980s. The reason behind this? If the technology cannot be easily navigated by the user, then it won't sell. Nowadays there is a different expectation from UI Designers than simple icons and buttons. The user expects more from the design, systems, and accessibility. Not only that, but the range of devices has expanded, where today's UI Designer works with websites, mobile apps, wearable technology, smart home devices and more.
User experience, or UX, comes after UI in the design process, and it deals with the user actually interacting with the product. I have had a number of new UX Designers telling me that they were drawn to the discipline due to their interest in the psychology behind what the user
prefers and how they relate to websites and products. This, understandably, is a common interest among UX Designers as UX is a mix between psychology, market research, business and technology. The term itself was introduced by Donald Norman (former User Experience Architect, Apple) in 1993 in his book "The Design of Everyday Things". As Norman put it, UX is "an approach that puts human needs, capabilities, and behavior first, then designs to accommodate those needs, capabilities, and ways of behaving". UX Designers make the product usable, enjoyable, and easily accessible for the user, or the everyday human that will use the product. They try to bridge the gap between the user, development team, and business stakeholders. Their daily tasks might include conducting user research, testing for usability, prototyping, creating interfaces and user flows. It is important to note that unlike UI Designers, UX Designers are not responsible for any visual design. They focus on the journey that the user will take when using the technologies or products, and then try to make that journey easier.
How do I become a UX/UI Designer?
Great, so now you know the difference between UX and UI Design and have decided that this is what you want to do every day. But how do you start this new career journey? Well, I've got your back my friend! As I have said before, I have been talking to a number of individuals going through the same transition and have gotten some tips on how to make it a reality. The following are some pointers that focus on the market in Ireland, however, there might be something that you can take from this blog post even if you live abroad.
To start off, I think the most important thing that you should consider is education. As you might imagine, there are a large number of designers trying to make a name for themselves in today's market. Majority of them have some educational background to support their designs, and make them more sought after by employers. To be completely honest, it is rare for a hiring manager not to expect any education that relates to the field that you are applying for, especially with UX/UI Design.
So where can you learn your craft? Thankfully there are a number of routes that you can take. Perhaps the most obvious thing you can do is to go to University and get a Bachelor Degree in Computer Science. This will ensure that you have all the knowledge needed for the field including coding, developing as well as modules such as Human Factors that will help you understand how the user interacts with the technology. If a four/five year degree isn't your cup of tea, don't worry you can do a one/two year Higher Diploma or a Master's in Computer Science. These courses are available from most Universities, such as National College of Ireland, University College Dublin, Griffith College and more. The reason I suggest a Computer Science route is because it will benefit you in the long run. Having some knowledge of coding and web development is highly appreciated by employers, and the ability to understand and talk to developers on your team is not going to go unnoticed. Not to mention the possibility of a higher pay once you have a few years of experience! Other than that, there are a number of Graduate programs that you would qualify for after finishing a degree. This is a good way of getting real experience to put on your CV, as well as a fantastic way to make connections.
"But Cathy, I don't want to go back to University full time and would like to focus solely on UX and UI". If that's the case, there are options for you too. There are a number of online learning websites that provide well established and detailed courses in UI and UX, such as the UX Design Institute, and CareerFoundry. I have had candidates who have completed those courses and landed a UX/UI job months after graduating. Not only are those courses comprehensive, but also help you create a portfolio which is something that is vital in getting your foot in the door of any company. If you would like to learn some web development skills on top of your UX/UI Design, Udemy has fantastic online classes to help you out with that.
How to STAND OUT!
Congratulations! You have finished your course(s) and are ready to work as a UX/UI Designer. Only problem - there are hundreds of people looking for the same opportunities as you. So how do you stand out? As a recruiter I have an inside scoop of what hiring managers are looking for.
PORTFOLIO - I cannot stress enough the importance of a good portfolio. As a designer, the defining factor of whether a hiring manager is willing to give you an interview is your portfolio. It is your chance to portray your thought process with the employer even before you get to speak to them, so do make an extra effort with it.
What makes up a good portfolio?
It can either be a PDF file or a website, however, I personally would suggest creating a website portfolio. You can hire someone to create it for you, but if you really want to stand out, I would encourage you to learn some web developing skills and create it yourself. This is something that definitely impresses hiring managers, and shows your multitude of skills.

Once you have the website running, remember that it needs to be easily navigated and have a good flow. This is crucial as it shows that you are thinking of how the user will interact with the websites and products you might design in your new position.

Your thought process needs to be clearly shown by the use of images and text. Describe your step-by-step on the projects you are exhibiting on the website. Images should portray those thoughts and create a visual guide for the hiring manager on what your project started off as, what you did to create changes, and what the final product looked like. Support the images with detailed text on your experience and show off your personality. Don't be afraid to tell the hiring manager about any failures or mistakes that happened during the design process. It is an important part of any design, and to be able to demonstrate how you overcome those challenges is definitely going to impress whoever is reading your entries.

SOFTWARE DEVELOPMENT SKILLS - I know you're probably sick of me mentioning this over and over again, but believe me, whether a candidate has any software development skills is something that is constantly asked by the employer. As I mentioned above, having software development knowledge creates a better dynamic in a team as the designer and the rest of the development team have an easier time communicating and understanding one another. This saves the team a lot of time and makes for a more effective product. This also means that you might get more responsibilities within your role, and as a result you get paid more. I have had hiring managers reject talented Senior UX/UI Designers only because they had no software development skills, or were offering 10k of a difference in a salary due to it. It will really make a difference for you in the long run. What I would suggest is to start off learning the basics such as HTML, CSS and JavaScript, and later go into frameworks such as AngularJS and ReactJS if you're up for the challenge.

INTERNSHIPS - Try to get as much work experience as possible. Internships and Graduate Programs are the best way to do it. A lot of the internship programs are legally not allowed to be advertised as they are not paid, so it is good practice to email HR teams in large or medium sized companies to see if they would take you on. The reason for targeting medium to large companies is due to the fact that their teams are a lot bigger and you will have a lot more opportunities to learn. You will also be able to make more connections with people and what is better than networking? The more experience you can put on your CV the better, especially when it comes to showing your ability to work on a team.

RECRUITERS - Do reach out to recruiters. I myself at GemPool have had a number of emails from new UX/UI Designers looking for that first opportunity. It is always a pleasure to talk to someone who is so eager and excited about their career, so don't think you are bothering us. As a result you will be put onto our database (with your permission, of course) and put into a talent pool for when a junior opportunity opens up. Before I even advertise the position, I ring people in my talent pools to see if they are interested, meaning that you will get to hear first about any openings.

PERSONALITY - What are employers looking for in candidates for Junior UX/UI Designer positions? Hiring managers understand that you are new to the gig and may not have much work experience, so your personality plays a vital role in the recruitment process. They are primarily looking for someone who would be a good cultural fit for the company, as well as a disciplined and rigorous designer. Someone who is passionate and assertive, with the authority to ask questions and provide answers to any problems that may come along the design process. When looking for new roles, research the company itself, see if it would be a good fit for you, and whether you would be a good fit for them. When you get that interview show them some of the qualities above. You would not believe what a passionate attitude and excitement for the role does for securing the role.
Salary expectations
Let's get real for a moment. You will not be earning a large salary the moment you step into your new role as a UX/UI designer. Have your expectations low at first, but know that they are going to quickly change. As a new designer the average salary is around 28k-35k, depending on the company and your previous experience. However, there is a quick growth in earnings, as 3-5 years of experience will put you in the 40k-50k category. After 5+ years as a UX/UI Designer expect 60k+, especially if you have software development skills to back you up. It's a great career to rapidly climb the ladder and earn some serious money. So what are you waiting for?
Hope this helps you out on your journey to become a UX/UI Designer. If you have any questions or would like to introduce yourself you can contact me through GemPool Recruitment at cathy.wojnicki@gempool.ie. You can also go on to our UX/UI jobs page to look for an opportunity that suits you. Best of luck with your new career!