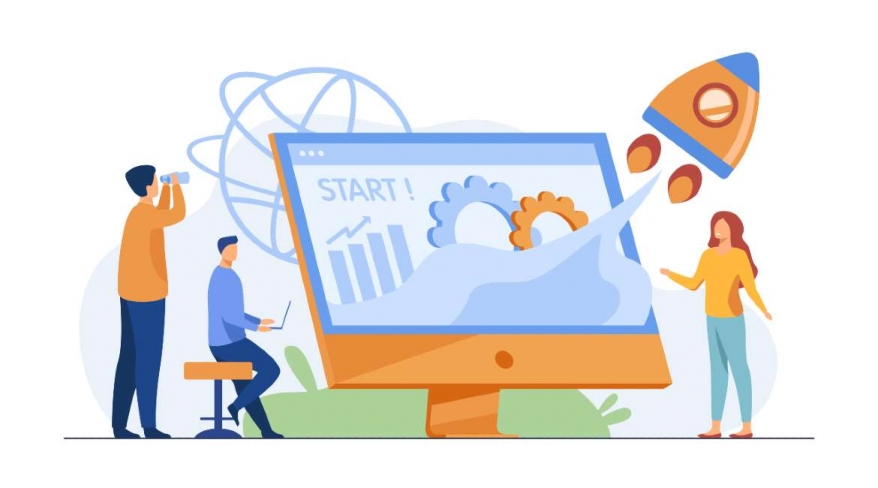 Latest Project Management Trends in IT
---
Posted on:

IT Jobs and Recruitment Insights
---
With the introduction of new technology, adaptable methodologies and leadership approaches, Project Management continues to change and evolve.
Add on the innovative pressure of a global pandemic and it's hard to keep up.
As a Project Manager, it is important to stay ahead of the curve, by keeping up with the latest technologies and trends. After speaking to Hiring Managers, Project Managers and researching industry trends, I have compiled the 5 latest project management trends.
Impact of Artificial Intelligence


Education vector created by vectorjuice - www.freepik.com

According to the Project Management Institute, 81% of professionals claim that artificial intelligence (AI) is impacting their organisations. So AI's impact on traditional Project Management should come as no surprise.

The current impact of AI is the automation of administrative tasks that previously belonged to Project Managers. Beyond task automation, AI can be extremely useful in gathering performance insights, making estimates and predictions, optimizing resource scheduling and enabling data visualisation.

Using AI to support or automate these tasks gives project managers more time to focus their energy on completing value-adding tasks that benefit their organisation.

Project Managers should embrace AI and although there is no need to become experts on the technology, they should have a clear understanding of their organisation's plans for AI in order to anticipate changes in their daily work and to learn how to leverage it for successful project execution.


A Hybrid Approach to Project Management


All projects have unique stakeholders, goals, timelines, expectations, budgets and teams, so why would a single project management methodology work across all projects?

Hybrid project management refers to the adaptability of approaches by merging multiple methodologies into hybrid approaches that are used to meet the specific needs of the project, organisation or industry.

This approach is not completely new but has gained immense popularity in the past 5 years. A 2021 survey found that more than half of project managers have said they use integrated project management methodologies.

From conversations with Project Managers and Hiring Managers in Ireland, I have found that more than half of the companies we work with do the same. Adapting methodologies to fit the internal processes helps to align project delivery with organisational strategy and it adapts to fit the capabilities and goals of the project team.


Change Management


Organisational change can range from a small adjustment in a product line to recreating internal processes or completely reforming a company's strategy, products, services or structure. Especially following the COVID-19 pandemic, companies had to embrace quick significant changes across all departments.

The most recent survey conducted by the International Project Management Association found that 63% of organisations conduct projects that contribute towards change management. However, the same survey found that only 30% of organisations find their change management capabilities to be "very" or "extremely" effective.

Project managers are aware that a single project can involve numerous organisational changes, so it is up to them to assure that the individuals affected by these changes are aware, prepared and supported. Project Managers need to include this step in the planning stages of the project.


Projects and Organisational Strategy Aligning



Character vector created by vectorjuice - www.freepik.com

Traditionally, project management is a temporary venture to achieve singular objectives, this may be pursuing a particular outcome or the launch of a new product or service. Usually, there is a set budget and timeline and it is the role of the Project Manager to assure successful completion.

In recent years the role of a Project Manager has expanded, and organisations have seen that project management is more than just a tool to complete a short term goal, but an important piece of a larger puzzle.

PPM coach and mentor Mike Frenette looks at how portfolios, programs and projects must align with the organisational strategy. Portfolios often look at what set of programs and projects must be part of the organisation and what length of time and budget is required in order to successfully meet business goals.

A program is a series of interlinked projects, which are all required to achieve an organisational benefit, meaning if one of the projects is not completed, the benefit cannot be achieved. Programs and projects are the building blocks to achieving organisational goals and making a strategy actionable.

It is important for Project Managers to have a clear understanding of the relationship between portfolio, program and project management in the organisation. This will help them see the bigger picture, and understand their contribution to the overall strategic goals of the organisation.


Growing emphasis on soft skills

The Project Management Institute's 2020 report found that most organisations put nearly equal significance on leadership skills as they do technical skills. With AI being more prevalent in everyday work, Project Managers can focus on other responsibilities where soft skills are more relevant.

Hiring managers are putting a lot of emphasis on relationship building soft skills such as communication, collaboration and conflict resolution. Often one of the main priorities of a Project Manager is liaising between the internal and external stakeholders. An example of this would be this Sr Project Manager Position.

Emotional intelligence is also a highly sought after skill. It is important for Project Managers to have an understanding of the needs of the clients while simultaneously understanding and considering the capabilities of their team. Overpromising can have a negative impact on more than just a project timeline, being considerate of your team's needs to go towards building a stronger team culture.
Currently, the Project Management market is booming and there are growing opportunities in practically every industry, especially IT. If I could give you one piece of advice it would be to highlight your adaptability in relation to your work. This is one of the most sought after skills. Project Managers need to be knowledgeable of the existing trends and methodologies in order to lead diverse teams and be able to quickly adapt to any environment.

If you have any questions or comments about these trends, or if you would like to discuss IT Project Management roles in Dublin, please contact Sofia Chaves. sofia.chaves@gempool.ie 01-905-2420