Finding the ideal talent requires a great deal of work in terms of sourcing and screening. We understand the difficulties associated with acquiring the appropriate talent, so let us do what we do, so you can focus on what you do best. With the right tactical skills and relevant industry knowledge, we will ensure a smooth expansion of your business, by hiring the best talent at the right time.
The benefit of outsourcing your recruitment process to GemPool is that we will reduce your time to hire, reduce your cost of hire, streamline your recruitment process, enable scalability of your hiring demands and build in a more robust, predictable talent acquisition strategy. As recruiters we understand the importance of having the right fit for the company. By working in close contact with your team, we will be able to assess your hiring goals as well as gain a better insight into the company culture which will ensure a stronger match of candidate, and therefore higher retention rates.
We would place a recruitment team within your company, on site to conduct the entire process for you. They would identify themselves as members of your company while carrying out the recruitment activity. GemPool's role in recruitment process outsourcing (RPO) would include the following steps:
An exclusive digital marketing campaign to promote your roles specifically
Sourcing and screening
Equal consideration of all applications received
Administration of candidates
Management of candidate experience
Communication with hiring manager
Representation of your brand in the talent market
Control and execution of the recruitment process
Advising to enable improvements in the recruitment process
Delivery of offers to candidate to improve offer-acceptance ratios
GemPool have been in the tech field over 10 years and have a wealth of experience in the RPO process to help you acquire the right talent to do the job! Working across 15 different specialist verticals, we can cater to all your recruitment needs.
Our past work within recruitment process outsourcing: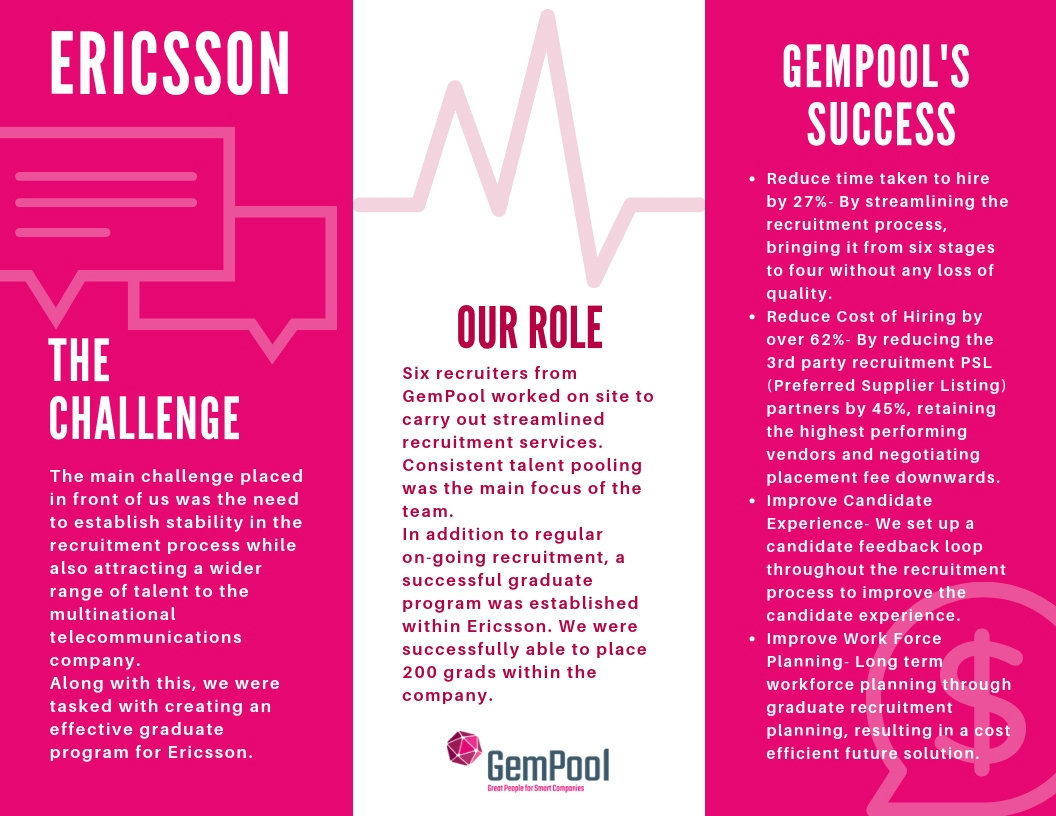 We understand the importance of finding a recruitment agency that completely understands your company's needs, we are always available to have a chat and discuss your requirements to create a lasting relationship that would be ideal for the both of us. You can contact us by sending in your queries or give us a call on (01) 486 6200 and someone from our team will get in touch with you.
Reduced recruitment time, reduced cost of hire, RPO helps enhance your recruitment process.
*Pricing would remain consistent and similar across all the different recruitment service offerings.